Work begins on courtyard area at
THS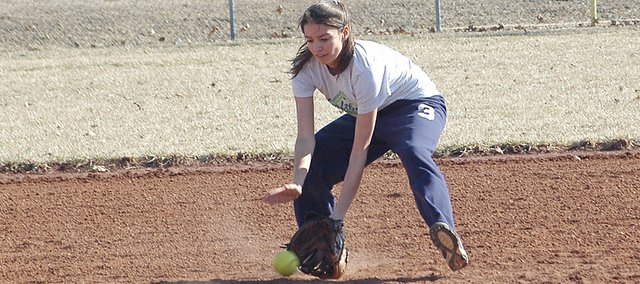 Work on the Chieftain Remembrance Walk is off and running.
The project, which will honor the living and deceased, got under way Saturday with excavating at the site, which will be in front of Tonganoxie High School's east campus.
The courtyard will include memorial brick pavers that will form a "T." Those bricks are reserved in memory of any former students, teachers, staff or board members or administrators of the Tonganoxie School District who have died.
Other bricks are available for anyone interested in having their name being part of the courtyard, which will include benches and landscaping.
The bricks interlock and will not be set permanently in the foundation. Only brick masons with specific tools can take out the bricks. And, bricks can be added long after the courtyard is completed.
Pam Jeannin, who is a committee member for the project, said there's been "a tremendous outpouring" from several businesses. Many of the supplies are being donated, and the courtyard is being constructed strictly through volunteer work.
Jeannin said roughly 70 bricks have been sold so far for the project that mostly will be worked on during the weekends because it is all being made possible through volunteerism. She said one of the volunteers, CJ McDaniel of Tonganoxie, has told Jeannin he would like the courtyard to be finished at the end of July.
"CJ's done a great job of contacting people and letting them know what were' doing and they've been very supportive," Jeannin said.
Picnic tables for the project are available courtesy of the Tonganoxie and Basehor Sonic restaurants. When both restaurants conducted renovations, the tables were replaced. They will have a new home at the Chieftain Remembrance Walk.
As for the vegetation, items are being donated in that department as well. Iris plants from Peruvian Connection's iris garden near the rural Tonganoxie business are being donated as well.
Brochures about the project are available at several Tonganoxie businesses. For more information, log on to www.chieftainwalk.org online.