Connie O'Brien candidate questionnaire responses
Editor's note: The following are responses to a questionnaire mailed to candidates in the upcoming Aug. 5 primary election. Look for more candidate profiles and full responses to the questions leading up to the primary.
Name: Connie O'Brien
Place of residence: Tonganoxie
Birthdate: Oct. 12, 1946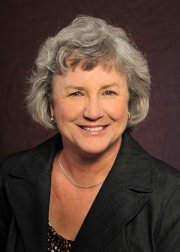 Family: Edward O'Brien, husband; Dana, Teri, John, Jill, Aimee, Shaun, Michael, Erin, Mark, Derek and Mary, children; nine grandchildren
Religion: Catholic
Education: B.A. in secondary education/social studies from St. Mary College in Leavenworth
Occupation: Retired teacher/substitute teacher
Political and government experience: Precinct committeewoman for Tonganoxie Rural since 1992, vice chair for the Leavenworth County Republican Party, district and state delegate to the Kansas Republican Party
Clubs or organizations: Leavenworth County Republican Women, Altar Society at Sacred Heart Church, 4-H Club, Kansans for Life and Dwight D. Eisenhower Excellence in Public Service series
Why are you running for state representative? "I am running for state representative, because there are many issues we need to address, including tax relief, education, energy and immigration, and I want to make sure common sense ideas and values prevail."
What would be your top priority if elected to the Legislature? "Whether we like it or not, the budget will be a top priority in Kansas. With a projected $188 million shortfall by 2010 and a $400 million (shortfall) the following year, we need to return to the principle of fiscal responsibility. Legislators must resist the impulse to spend, we must look for areas to cut spending and resist all efforts to raise taxes. We cannot tax ourselves into prosperity."
Would you support a no-growth state budget for public schools and higher education? "No."
What should be done on the state level about illegal immigration? "Respect for the laws of our country is a prerequisite to legal immigration. I will oppose giving benefits reserved for legal immigrants to those who enter our country or state illegally. We need to take away the incentives which promote illegal immigration. No drivers license should be issued to an illegal immigrant, no in-state tuition and business owners must help by screening prospective employees. Those who knowingly hire illegal immigrants must face stiff penalties. If we take away the incentives, illegal immigrants will not choose to come to Kansas."
Are you in favor of locating additional coal-fired power plants in the state? Why or why not? "I support the expansion of the Holcomb Power Plant. Affordable energy needs demand that we develop dependable energy resources now. This plant expansion would have created much needed jobs, boosted the economy, secured lower energy cost and created additional revenue for the state without raising taxes. My motto is job creation not taxation."
Would you support an increase in the cigarette tax? "No."
What areas of the state budget should be reduced? What areas should be increased? "State government jobs have increased dramatically. Government jobs make up 19 percent of the total work force in Kansas. Recent government job growth has placed Kansas well above the majority of other states. We need to curtail and downsize government growth and bureaucracies while expanding policies that promote private sector job growth."
What should be done on the state level to reduce gasoline prices? "The high gas prices we are currently experiencing are the result of an unwillingness to develop our own energy resources. At the state level, lowering the gas tax would provide only temporary relief. Promoting policies that encourage development of our energy resources is the only long-term solution."
What differentiates you from the other candidates filing for this office? "I am a woman and a mother. I am the mother of 11 children, and I know what it means to live within a budget. I am a fiscal and social conservative. I believe these are the values shared by a majority of Kansans and the people of the 42nd District."