City administrator: Water park will open Tuesday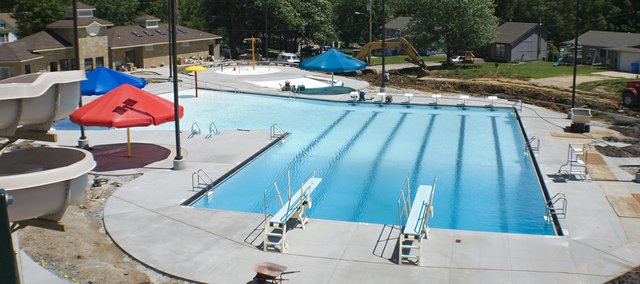 Tuesday is the day.
Tonganoxie City Administrator Mike Yanez announced Thursday that the new Tonganoxie Water Park would be open for public swimming Tuesday.
The official opening day has been pushed back because of weather in recent weeks, but Yanez said the park definitely would be open for business that day.
Several trees, shrubs and wild grasses have been planted and planting will continue for the next two days.
Security fencing is being installed, while retaining wall work is finished.
In addition, furniture is being moved to the site and pool staff is receiving deliveries of concessions and other items.
Bluegrass sod will be installed beginning Monday and will continue after the pool opens.
As for the water portion of the water park, Yanez said it is ready and waiting.
"All water features are operational and water quality is superior," Yanez said.
Hours for the pool include: 10 a.m. to noon, swimming lessons and toddler swim; noon to 1 p.m., adult swim; 1 p.m. to 7:45 p.m., open swim; and 8 p.m. to 9 p.m., water aerobics.
Voters approved the project through a three-quarter-cent sales tax for the $2.7 million pool in April 2007.