TOURNAMENT

CENTRAL

: Tonganoxie falls, 67-52
Host Holton ends Chieftains' season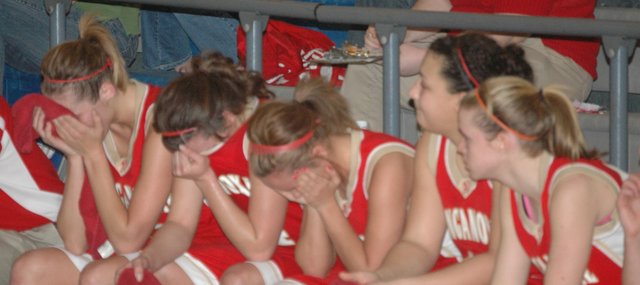 Holton — The Tonganoxie High girls basketball team will not be making a second consecutive state tournament appearance.
No. 1 Holton defeated No. 2 Tonganoxie, 67-52, and improved to 22-1 in the Class 4A sub-state finals at Holton on Saturday. THS finished its season at 19-4.
Down by more than 20 at one point, the Chieftains staged a rally in the third quarter, cutting the Wildcats' lead to 12. But the Chieftains could not make the final push. Holton, meanwhile, will return to state for the second consecutive season.
After scoring just 16 points in the first half, the Chieftains came out firing in the third quarter. Senior Liz Baska hit three three-pointers in the period to lead the charge and Shannon Carlin scored a layup with 1:12 to go in the quarter to make the score 48-36.
That was as close as the Chieftains got, however, as the Wildcats answered the rally with a 7-0 spurt to finish the third and start the fourth. The home team then stalled on offense to make sure surging THS didn't make the game any closer.
Baska finished with 20 points and Carlin had 12. Chrissie Jeannin scored seven, senior Tracie Hileman scored four and sub Roni Grizzle converted two field goals.