Chieftains allow season-high 76 in finale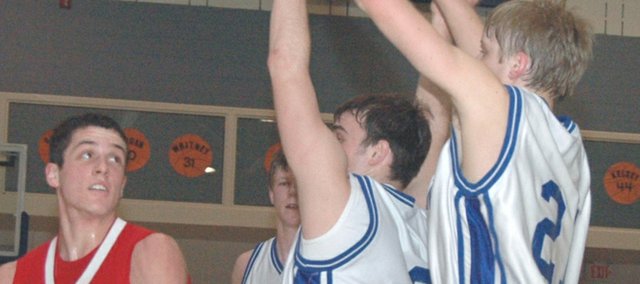 Holton — It was a long shot.
The Tonganoxie High boys basketball team, seeded No. 6 in the Class 4A sub-state bracket, needed a near-perfect game to defeat No. 3 Holton on its home floor.
The Chieftains, however, were far from perfect in a 76-58 season-ending loss to the Wildcats on Feb. 26.
Tonganoxie had more turnovers (24) than field goals (20) in the defeat and coach David Walker said mixing the poor performance with a postseason road game was a bad equation.
"You play on the road all season long and you know that it's always going to be a little bit tougher on the road. You can't walk into somebody else's gym and be as ill-efficient as we were in every regard," Walker said before lamenting the Chieftains' defense - which allowed a season-high 76 points - in the critical contest.
"I thought that was our worst defensive performance," the coach said. "We just weren't in sync from the time the ball went up until the buzzer went off. It leaves a terrible feeling in your stomach."
Tonganoxie got off to a dismal start, missing all of its field goal attempts in the first quarter. After taking a brief 3-2 lead in the fifth minute of the game when senior Keith Wentz-Hall hit three free throws, the Chieftains succumbed to a 13-1 Holton run that ended the quarter.
THS (6-15) played much better in the second quarter, converting seven field goals and scoring 17 points.
The Wildcats led 33-21 at halftime thanks in large part to their trapping and pressure defense, which gave the Chieftains headaches throughout the game. And the third quarter, when Holton outscored the visitors 17-8, was no different.
The Wildcats routinely got layups off steals and went 25-of-42 from the floor on the night.
Wentz-Hall admitted playing at Holton was a tough task.
"Definitely not the way to go out," the senior said. "They're a really good team. You've got to give them credit, but that's probably the worst we've played defense all year."
The main benefactor of that defense was Holton sophomore David Martin, who scored 27 and went 9-for-13 from the floor.
Wentz-Hall and Gabe Belobrajdic, two of Tonganoxie's six seniors, led the Chieftains with 16 points apiece in their final contest. Sophomore Keaton Schaffer was the third-leading scorer with seven.
Belobrajdic said the Chieftains needed a more focused effort in their postseason loss.
"(The Wildcats) were definitely good, but I think we had a lot of mental breakdowns," he said, alluding to the multiple miscues. "They had a lot of layups on us and we played some of the worst defense that we played all year. Not that that's an excuse. We should have turned it up."
While the loss to Holton was not the ideal way for the Tonganoxie seniors to end their careers, Walker said Belobrajdic, Wentz-Hall, Isiah Sawyer, Logan Forbis, Tyson Letourneau and Josh Nowasell had a positive impact on the program.
"It was a hard-working group and I thought it was a fun group to be around," he said.
The departing seniors hoped their work would provide an example to the players who are returning next season. Wentz-Hall said the seniors gave the underclassmen some parting advice.
"We gave them a little bit of input. Coach gave them a speech and every senior had input on it - just told them that if they really want to become good and get to the next level they've got to work," he said.
Walker thought the seniors got things started in the right direction, but said the underclassmen who saw significant game action this year - freshman Jeremy Carlisle, sophomore Schaffer and juniors Jace Waters and Austin Smith - need to carry that over to next season.
"We're going to start next year with basically six guys that have varsity experience and we started this year with one," Walker said, adding that returning players will have to do a lot of work in the coming offseason. "We can't expect to show up and be better because we played a lot this year."
Belobrajdic, who secured a game-high 12 rebounds and ended his career with a double-double, also shared his advice for next year's team.
"You have to have at least one, if not all, of the juniors coming up to step it up and take control," he said. "They can't ask the underclassmen to do something. They have to tell them to do it and make sure it's right. Step it up and make sure it gets done."
That being said, Belobrajdic also sees a bright future for the Chieftains.
"We were actually pretty deep this year. A lot of the guys on the bench who we could rely upon are going to be big parts next year," he said. "I think we've got some really good guards who are going to step it up."