Former hostage discusses Filipino captivity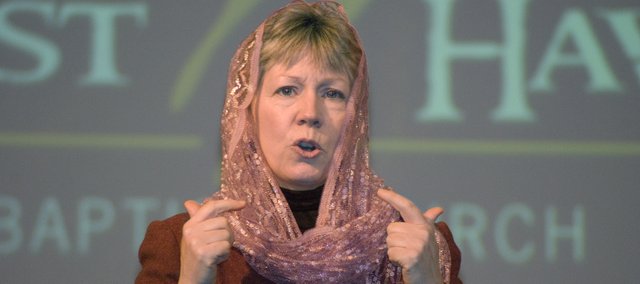 What was supposed to be a restful one night-stay at the Dos Palmas Island resort in the Philippines to celebrate their wedding anniversary turned into a one-year nightmare for Gracia and Martin Burnham. Members of the Abu Sayyaf Group took them as hostages in the pre-dawn hours of May 27, 2001.
On Sunday, Gracia Burnham spoke to a packed house at Tonganoxie's West Haven Baptist Church about the tragic ordeal that claimed her husband's life during a gunfight between the ASG and the Philippine army in June 2002, and how she has managed to use it as a tool to spread Christianity.
"This is not what I would have chosen to do," Burnham said. "I don't love to speak in public and I don't love to travel all of the time, but it would be sad if something good didn't come of it."
Her hour-long speech to the more than 400 people in attendance started with a video clip summarizing what had happened. She then spoke about what it was like living and the surviving in the jungle without proper nutrition and some of the amenities and luxuries she no longer had, such as private bathrooms.
She also told the congregation of what it was like living in constant fear of gun battles and of the relationships she and her husband had with her captors.
Some of the most revealing and emotional parts of the speech were her thoughts on what she had discovered about herself.
"In the jungle I came face to face with a Gracia I did not want to see," Burnham said. "A me that I didn't even want to believe existed.
"I saw a hateful Gracia. There were days when I hated those Muslims for what they were doing to us and for the pain they were causing our family. I saw a covetous Gracia. When we were starving and I saw someone with food and they didn't share it with us I coveted what they had I was filled with envy of them. I saw a despairing Gracia. 'Nobody cares about us anymore. This has gone on for so long, nobody cares'. I saw a faithless Gracia."
But even though she was the one in captivity, she said she began to feel sorry for some of her captors because of the relationship they didn't have with God like the relationship she had.
The only difference was with one of her captors named Soliman, who in her mind "was the most dangerous of the Abu Sayyaf leaders."
In January of last year, coincidentally on her birthday, she learned about Soliman's death.
"Always before when I would hear about the death of one of those guys my heart would just sink and I would think, 'oh no, another guy's day of grace is over', but not with Soliman," she said. "When I heard the news I felt a rush of relief and it really, really bothered me until months later when I started analyzing it. I think it was closure. Who would think that Soliman would die on my birthday?"
Traveling with Gracia Brunham were Paul and Oreta Burnham, Martin's parents. They said they liked to come with Gracia to any of her speeches that are within driving distance to their home in Rose Hill.
As missionaries for New Tribes Missions to the Philippines for 34 years and having raised their children in the Southeast Asian country, Paul and Oreta said they were sad with what happened to their son. But they were happy Burnham was able to turn it into something positive.
"Martin lived a good life and the Lord decided it was time for him to come home," Paul said. "We are going to see him again so it's not like he's gone forever."
Associate pastor Mark Scribner said the church was blessed to have had the opportunity to have Burnham speak at the church. Last year Burnham had 168 speaking dates, and Scribner said Sunday was her only open time in 2008.
Burnham's speech and the October speech by Carrie McDonnall, another missionary who survived an attack in Iraq that claimed her husband's life, is part of the church's focus on promoting mission work both locally and internationally.
"We are really trying to become mission-focused," Scribner said. "Though there are lost people in Tonganoxie, you also see that it's not just about West Haven or Tonganoxie. We are trying to get that mentality of missions."
In July around 30 West Haven parishioners will visit Mexico for mission work. There is also another mission planned for May in Canada.