Historical society wrangles Herd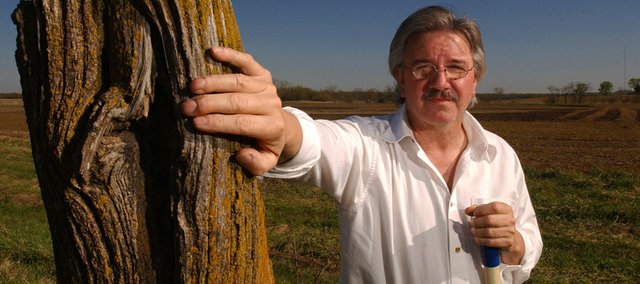 To really appreciate Stan Herd's artwork, one would probably need to rent a helicopter or airplane.
Fortunately for members of the Tonganoxie Community Historical Society, watching a slideshow with the artist himself was the next best thing.
"I was just standing in awe and in amazement," said Julienne Kaslaitis, program director for the Tonganoxie Community Historical Society. "It's just incredible that he could just see the world as he sees it and just change it all to art. It's just amazing to me."
Herd, who has been using the land as his canvas for more than 20 years, spoke at the historical society's monthly meeting Feb. 25 on the TCHS campus to talk about his art.
"I think it connects because it's art, but it's also about rural America, agricultural and community so it resonates pretty well in rural areas and hopefully in the cities too," Herd said.
Despite a weakened voice from a cold he was still recovering from, Herd made his presentation to a packed house.
He spoke about his artwork and the processes he uses in creating it. He said one of his main concerns was the conservation of land, which is why his artwork is never permanent.
Herd said that he would never want to make any permanent alterations to the land to create his artwork, but he would consider going into an area that had been altered and attempt to revitalize it with plants to create his art.
He also spoke about the artistic struggle with trying to keep the purity of his work, but also earning a living.
"When I was younger I had a bigger patch of idealism," Herd said. "I really struggled with that because I had this gift and I didn't want to use it for the wrong thing."
Herd said the trick is to find the right balance between being able to do projects such as a two-acre portrait of Sheikh Maktoum bin Rashid al-Maktoum of Dubai and a giant Becks beer bottle.
"I try to accept projects that make sense to me," he said.
Besides his earthwork projects, Herd said that he has also recently been involved in some film ventures with Lawrence filmmaker Kevin Willmott. Bunker Hill and The Only Good Indian, which features American Indian actor Wes Studi, are two movies he's helped produce.
Next month Mike McClellan, social studies teacher at the Tonganoxie Middle School will speak about the 1918 influenza pandemic.