Lawrence group top rockers in 3rd annual battle of the bands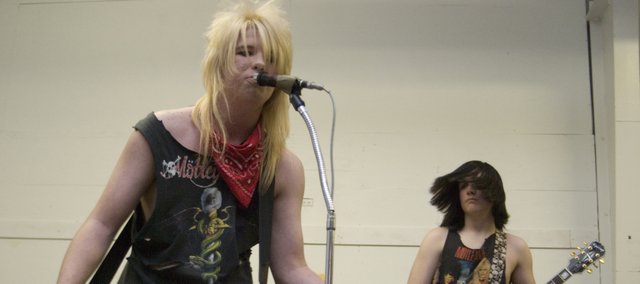 Wielding their four and six-stringed axes and thunderous drumsticks, four area bands went head to head Saturday night at the Leavenworth County Fairgrounds in the third annual Battle of the Bands.
But as the fog of war lifted, only one band, Never Ask Why, emerged victorious.
"I'm so excited," said Chris Lukowiak, the Lawrence band's lead singer and guitarist. "We have been waiting for this all year."
The Tonganoxie glam band Leathur Teeze, whose look is reminiscent of the 80s metal band Motley Crue, began the battle by launching a salvo of rock at the fervent crowd of local youths.
On lead bass and vocals was Jesse West. On drums was Colby Shumway and on rhythm guitar was Preston Morey. The band's lead guitarist was Jeff Carlin, who rocks under the alias Johnny Vendetta.
One of the band's highlights came when Carlin played a guitar solo with his guitar behind his head sending the crowd into an uproar.
Even Lukowiak mentioned the moment in his speech after winning the rock battle.
"That guitar solo behind the head:I'm going to dream about that tonight," he said during his speech.
Two other bands rocked the fairgrounds' main administration building.
The Reconciling Grave was the second band to play Saturday night. They answered Teeze's attacks with their own volley of mellower rock. The band's lead vocalist was Brent Lees. He and Aaron Carroll played guitar while Caleb Wager rocked the computer mouse and keyboard digitally mixing their music in real-time.
Novice Daze was the fourth band to grace the spotlight. Their song's darker and edgier lyrics and growly vocals from lead singer Davis Ricker got the thumbs up from Jason Owens, one of the battle's three judges. Owens said Daze was his personal favorite of the four bands.
Also in Novice Daze was bassist Alex White and drummer Andrew Borgelt.
But Never Ask Why was the crowd and the judges' overall favorite because they were able to crank up their musical ability, crowd participation and overall energy in the room to 11.
"Instrumentally and vocally I thought they were really balanced and they were also very animated and fun to watch," said Johnnie Ferguson, another battle of the band judge. "You have to give them all a big hand. There were a lot of creative bands here."
Never Ask Why's bassist is Tony Spears and Alex Brohaugh plays drums.
The three judges used a one to 10 scale to judge things such as professionalism, musicianship and crowd's participation.
Even though her favorite band, Leathur Teeze, didn't win, Nichole Cox, the night's third judge, was pleased with the quality of music coming from the bands compared to last year when she was also a judge.
Paula Bolinger, assistant director of the Tonganoxie Recreation Commission, hopes to attract more Tonganoxie bands next year and increase attendance from this year's 200 mark. The Tonganoxie Public Library cosponsored the event with TRC.