Night of Knights raises more than $7,500 for
GCA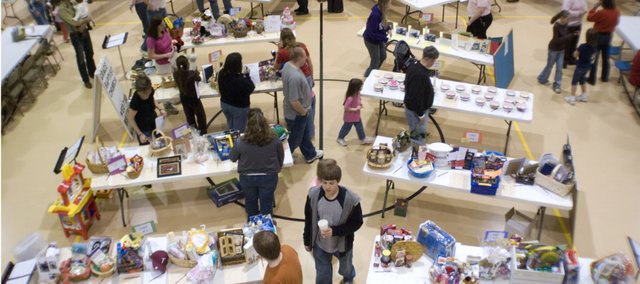 Tonganoxie residents who wanted to spend their Saturday evening looking at art, learning about different scientific discoveries, eating some chili and possibly bidding on a few items found the perfect place at the Genesis Christian Academy's annual Night of Knights fundraiser.
For more than five years, GCA has played host to a chili supper and science fair. And for the last four years they also have played host to an art fair and silent auction for items donated by the community and local businesses. On Saturday they combined the two events along with an open house to kick off the Night of Knights.
Sharon Beeman, GCA administrator, said she set a goal of 700 people to beat last year's attendance goal. To get those numbers Beeman needed help from the parents of the more than 200 students, but also community assistance.
"We do attract a lot of people from the community who look forward to the chili supper and now to the silent auction," she said.
Although the attendance only hovered around 500 guests, Beeman said she was excited that the school was able to raise more than $7,500 compared to last year's auction, which raised $5,000.
"The quality of this year's merchandise is incredible," Beeman said. "It's a notch up from last year."
Up for bid were regular items like gift certificates and passes to different shows in Kansas City, but there were also customized baskets geared toward the chocolate lover, dads and K-State and KU sports fans. Framed pieces of students art were for sale, although the estimated value of the art was "priceless."
The items and gift certificates came from 58 different area businesses and from the community.
Science Fair
On Friday judges evaluated the individual and group science projects for the fourth- through eighth-grade classes.
The judging was based on how well the students followed scientific method, how well they presented their project and how much they knew about what they had learned.
This year's winner was 13-year-old Ben Reilly. The seventh-grader's project was about bridge design and which design was the strongest.
"My dad proposed the idea and I expanded on it," Reilly said. "I just thought it would be fun to see how much it would take to pull a bridge apart."
The Tonganoxie youth, who plans on being an aerospace engineer, learned about tension and compression during his research and found that a Pratt truss design would be one of the best as it was able to hold 4 pounds of weight without breaking.
The school's only other fundraiser was the fall cookie dough sale, which raised $5,000. The money raised from the silent auction and the cookie dough sale goes to update the technology in the school, to help build an athletics program and to save for emergencies.
The money from the fall sale was used to upgrade the school's new computer lab.