State hopes halted at Holton
Rough start against Holton dooms
THS

girls, just one game shy of state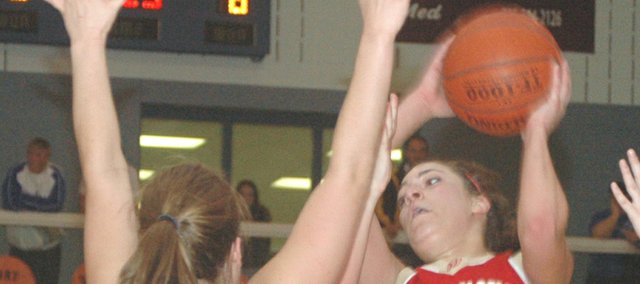 Facing a one-loss team on the road in a gym filled with boisterous Holton High fans and a Class 4A state tournament berth on the line, the Tonganoxie High girls basketball team knew that it was entering a hornet's nest on Saturday.
The Chieftains were repeatedly stung in the first half by Holton as their season came to an end in a 67-52 sub-state championship game loss.
Holton (22-1) found itself with a comfortable lead in the first half as the Wildcats routinely scored and the Chieftains, uncharacteristically, did not. THS trailed 9-1 before senior Liz Baska scored the team's first field goal on a layup in the fifth minute.
"We knew it was going to be a tough one," coach Randy Kraft said. "Their crowd, they're loud, (the Wildcats) feed off that energy and they hit a few shots early and that really fueled them."
The scoring struggle continued for Tonganoxie (19-4) throughout the first half as the Chieftains went 6-of-18 from the floor during the first 16 minutes. Holton went 13-for-22 and THS trailed by 20 at the break.
"We knew they were going to come out strong and fast at the beginning," said Baska, who scored nine of the Chieftains' 16 first-half points. "They hit everything and we didn't. And they continued to hit everything. What do you do?"
Kraft said the icy start for his team might have led to its demise.
"I think that planted a little doubt in our minds about shots falling," he said. "Same thing when (the Wildcats) were hitting theirs - it just gave them more confidence."
The Chieftains showed more confidence in the third quarter when they drained four threes and cut the deficit to 12. Baska hit three three-pointers in the period to lead the charge and Shannon Carlin scored a layup with 1:12 to go in the quarter, making the score 48-36.
Baska said the third quarter push proved the Chieftains' character.
"We just never really gave up. The scoreboard really doesn't show it with a 15-point (final) difference, but I was really proud of everyone," she said after scoring a game-high 20. "No one ever got down."
Kraft also thought the third quarter performance reflected well on his team.
"Our kids have fought all year and I was really proud of them, the way they came back in the second half," Kraft said. "A break here or there ... if we could have got it to single digits, who knows?"
After Carlin's lay-in with 1:12 to go in the third, however, Holton went on a 7-0 run. The Chieftains cut the deficit to 15 when Abby Eisman hit a three in the final seconds.
The loss was difficult for the Chieftains seniors to handle. Baska, Carlin, Cara Carlisle, Tracie Hileman and Christy Weller were all emotional following the defeat.
Baska thanked her teammates and coaches for their time together after the game.
"I wouldn't want to do it with anyone else," she said with a few tears still in her eyes.
Kraft spoke highly of his seniors and said they accomplished a lot in their time as Chieftains.
"I'll never forget this class; Liz was on our state team as a freshman - sixth man, played a lot of minutes. All of the rest of them came in and were active contributors their sophomore years," Kraft said, noting that the class went to state as juniors and won three league titles. "They've accomplished about everything you can accomplish and they've done it all four years they've been in here."
Kraft said the loss was tough to swallow, but season-enders tend to be that way.
"It's tough," Kraft said. "Whether it be this week or next week it was going to be tough because of those seniors.
"For them, I wish we would have got that one step further. They've got a career to be proud of and some real fond memories to look back on. It didn't end the way we wanted it to, but I was so proud of the way they fought back in that second half. It showed a lot of character on their part and showed what they're truly about."
Carlin finished her career with a 12-point outing. Junior Chrissie Jeannin scored seven, senior Tracie Hileman scored four and sub Roni Grizzle converted two field goals.
Saturday's game against Holton marked the third time in the past two school years that THS and Holton squared off in the postseason in a girls sport. In 2006, Holton won a sub-state volleyball championship against Tonganoxie at Holton. This school year, Tonganoxie returned the favor in the sub-state semifinals and went on to win the sub-state title in Tonganoxie. Both basketball squads advanced to state in 2007, but did not face each other in Salina.