Wal-Mart on the way with rezoning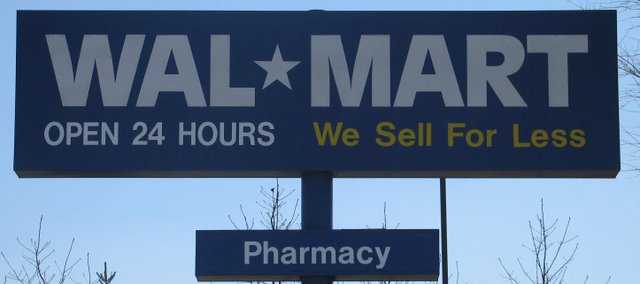 Area shoppers can anticipate a new option as plans for a 198,000-square-foot Wal-Mart Supercenter, to be built at 10th Avenue and Eisenhower Road in Leavenworth, progress.
The Leavenworth City Commission, in a meeting Feb. 26, approved a rezoning application submitted by SMC Consulting Engineers Inc. of Oklahoma City, the agent acting on behalf of Wal-Mart Stores Inc.
The application, which would change zoning for the 37.8-acre tract from a rural-residential and general business district designation to a planned unit development, was up for final consideration in a second reading during a commission meeting Tuesday.
Plans for the supercenter include a full-scale grocery store, pharmacy, a home and living department and a seasonal garden center among other amenities.
"They've got this fast-tracked," Leavenworth County City Manager Scott Miller said of the development in a Leavenworth County Port Authority meeting last week. "So if they get the approval next Tuesday, we've got a development agreement that will come shortly thereafter, and they could be up and running on that site in probably 45 days afterwards."
Leavenworth City Planner Roger Denton noted Friday, however, that Wal-Mart had not closed on the property at the time of the rezoning application.
Denton said city staff had recently notified surrounding property owners of plans for the four-lot development on the northwest corner of 10th and Eisenhower adjacent to the border between Leavenworth and Lansing. The Leavenworth City Planning Commission held a public meeting Feb. 4.
When reached for comment, Angela Stoner, with Wal-Mart public affairs, confirmed the corporation's intent to move forward.
"We just really look forward to serving the community in Leavenworth with the extended grocery services (that are part of) a supercenter," she said.
As far as the current Wal-Mart store, at 3450 S. Fourth Street in Leavenworth, Stoner said, assuming a final development plan is approved by the city, "We will not close that facility until the new one is open."
She added that Wal-Mart Realty, the corporation's real estate arm, could, in turn, sell or lease other lots in the development.
In terms of any kind of incentives package from the city, Denton said Wal-Mart was not requesting a property tax abatement or deferment but did request the city install a traffic signal at 10th and Eisenhower.
He added that a traffic light was already deemed warranted under a traffic impact study conducted by Bucher, Willis and Ratliff Corp. of Kansas City, Mo.
Assuming the rezoning application was again approved last night, the next step in the process, according to Denton, would be consideration of a final development plan followed by a preliminary and final plat for the development.