Tonganoxie City Council agenda for March 10.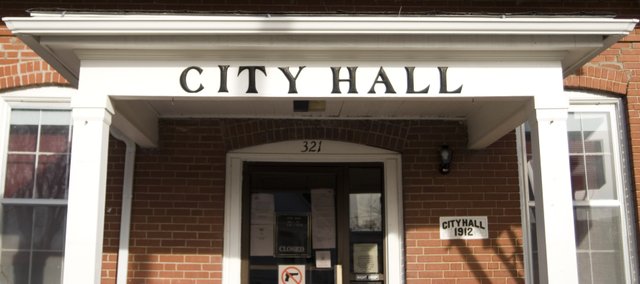 Open Meeting 7 p.m., City Council chambers, 321 Delaware.
Consent Agenda - (Routine & Customary Items)
a. Approval of Minutes
1. Regular Meeting dated Feb. 25, 2008
b. Consider Approval of Bills Approve Pay Ordinance A-1578
c. Consider approval of Pay Request #6 to Prosser Wilbert for work completed on the Tonganoxie Aquatic Facility.
d. Consider approval of Pay Request #6 to Combes Construction for work completed on the Tonganoxie Public Works Facility.
Open Agenda
"Members of the public are welcome to use this time to comment about any matter relating to City business. The comments that are discussed under Open Agenda may or may not be acted upon by the Council during this meeting. Please wait to be recognized by the Mayor, then state your name and address and all comments are to be directed to the chair."
Old Business
a. Consider Ordinance 1252 an interlocal agreement between the City of Tonganoxie and the Tonganoxie Recreation Commission
b. Consider Ordinance 1254 granting to Kansas Gas Service, a natural gas franchise
New Business
a. LCDC Quarterly Report
b. Consider Ordinance 1253 authorizing the execution of the third amendment to the loan agreement between the City and KDHE to increase the loan amount by $357,313 for costs associated with the addition of the sludge press to the WWTP project.
c. Consider Charter Ordinance 18 exempting the City of Tonganoxie from provisions of KSA 12-2222 relative to the residency requirements of Library Board members.
d. Consider Resolution 03-08-01 adding the position of Lieutenant to the Fire Department.
e. If agenda item V. a is approved, consider promotion of a Firefighter to fill the position of Lieutenant.
f. Consider approval of the purchase of Firehouse Software from ACS Government Solutions in an amount not to exceed $3,120.00.
g. Consider acceptance of construction engineering charges for infrastructure installation at Urban Hess #4 in an amount not to exceed $5,899.50.
h. Consider entering into an agreement with BWR to prepare the Safe Routes to Schools Phase I and Phase II funding application in an amount not to exceed $20,600.00.
i. Consider amending contract with BG Consultants for engineering services for the relocation of the US 24/40 traffic signal from Northstar Drive to Main Street intersection an increase in the previous contract amount of $34,000 for the purpose of submitting an application to KDOT for corridor management funds for the project.
j. City Administrator Agenda & Report
1) Consider RFP for Appraisal Services for 4th Street Phase III easement acquisition.
2) Discuss retail recruitment/retention options.
k. City Attorney Agenda
l. Mayor's Agenda
m. Council Presidents Agenda
n. City Council Agenda
Adjourn
Information & Communications (No Action Required)
a. Tonganoxie Public Library Calendar March 2008
b. 20th Annual Economic Development Conference
c. Excerpt form K-10 corridor newsletter - KDOT studies new link from K-10 to I-70
d. KDOT News Release Construction set to begin for K7 & US 24/40 interchange
e. Tonganoxie Recreation Commission February 11, 2008 meeting minutes
f. Letter from KDHE commending WWTP reporting for previous year
g. January 2008 Budget Report
h. Kansas Government Journal February 2008
i. Leavenworth County Sampler Steering Committee minutes