Onward and Upward for third-year hoops program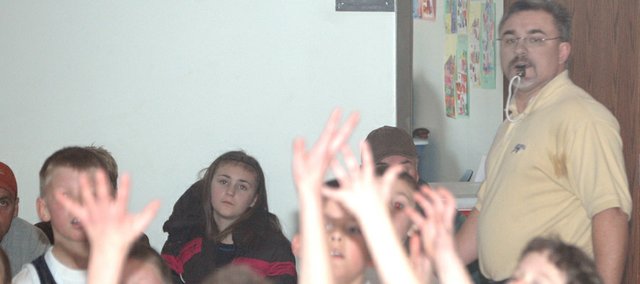 The music starts to play. A name is called out over the loud speakers. A smiling mug shot next to a team logo is displayed on a screen above the court and a basketball player emerges onto the gym floor in pre-game introductions.
Sounds like another night at a college or NBA game.
Guess again.
It is Saturday morning at Tonganoxie Christian Church's Family Life Center and the players being introduced are in elementary school.
A little pre-game pageantry is just one of the perks boys and girls from kindergarten through sixth grade enjoy as players in the Upward basketball program, headed locally by Michael Smith of Tonganoxie.
Saturday marked the final week of the eight-week Upward program, now in it's third year here in Tonganoxie.
A national sports ministry program that includes not just basketball, but also soccer, flag football and even cheerleading in other cities, Upward started at a church in Spartanburg, S.C., in 1986. Last year roughly 900,000 kids nationwide were involved and the million mark is expected to be reached this year.
The young basketball players who compete on the Tonganoxie Christian Church court on Saturdays make up just 68 of that grand total, but the program has grown in its brief local existence.
In its first year, Smith said about 50 kids signed up. Last year a few more joined, and this year, with the inclusion of kindergarten participants for the first time, the number grew to 68.
"Which is a pretty good size for a town the size of Tonganoxie," Smith said.
Smith, a member of Tonganoxie Christian Church, said the church decided to bring the basketball program to town upon learning about it three years ago. Some members attended training sessions in Kansas City and got the ball bouncing.
A longtime sports fan, Smith wanted to run the point for the church's new program.
"I think it's just sports in general," Smith said when asked to describe what got him interested in the program. "I'm a big basketball, football, just a sports guy. I really like that and being able to take sports with my Christian background and combining both of those is what intrigued me."
While basketball is what attracts people to the program, there is more to it than dribbling, passing and shooting. Players have devotions each week at practice and during halftime at the games a testimony is presented.
"This way we're able to not just minister to the kids through sports, but also to adults through the games," Smith said.
This year the program had 12 teams, which were divided among boys and girls and younger and older players.
The younger teams play side-by-side in the morning as the regulation basketball court turns into two mini-courts. Four portable goals are brought in and countless family and friends line the walls of the center's interior to watch and cheer. The older teams take the action full court in the afternoon.
After this year's season came to an end on Saturday afternoon, players returned in the evening for an awards celebration. Along with some ceremonies and entertainment, each player received a regulation size basketball with the Upward logo on it.
Just another perk that comes with Saturday hooping at Tonganoxie Christian.