Prep teams hurdle weather woes at practice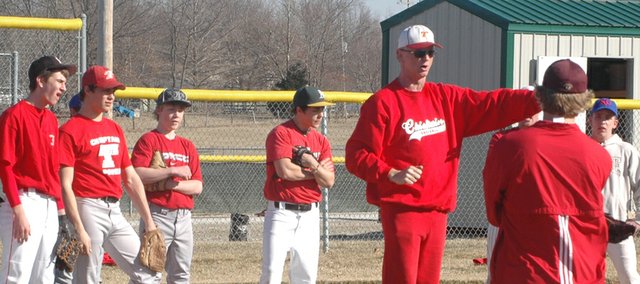 The vernal equinox, marking the beginning of spring, is just days away, but spring high school sports teams have been practicing and training for their upcoming seasons the past few weeks, some since the last week of February.
In northeast Kansas, with winter weather rearing its ugly head every once in a while, conditions in the weeks leading up to the start of the season can be too cold, wet or downright wintry for athletes to train outdoors.
That's a bit problematic for spring sports - baseball, softball, track and field, soccer and golf - which are all played outside.
"We've been able to get outside for about half of our practices," McLouth High softball coach Ballard Patterson said, adding that his team had its first intrasquad scrimmage on Thursday, which was the first chance he got to see how his pitchers and hitters looked in a game situation.
Other teams haven't spent nearly as much time in the elements. At Tonganoxie High, softball coach Diane Titterington said her team went outside just once during the first week of practice. Even though it was pretty muddy, she said they were determined to get in some fly ball practice. She said being limited to indoor practicing like running in the gym or hallways or taking cuts in the batting cage can be frustrating.
"There's things you've got to do outside and you can't," Titterington said. "You do what you can."
Coaches at Tonganoxie, Titterington added, worked together juggling practice schedules to make sure everybody got a chance to work in one of the school's gyms on the inclement days.
"That's one of the big challenges this time of year," she said. "You're just waiting for the weather to get warm enough and dry enough."
McLouth boys track coach Gary Freeman said there are ways to get meaningful indoor practice time in for the outdoor sports.
"We have obviously had to do a lot of training in the gym, the weight room and also running the hallways. What we have tried to do, however, is also get some fundamental drill training for specialty events," Freeman said. "As the pole vault coach I have had them working with a pole everyday, even if it is inside to get them acclimated to how it will feel."
The Bulldogs coach has gone as far as setting up hurdles and even throwing shots and javelin inside.
Tonganoxie girls track coach Chris Weller said the team's first week of practice was spent primarily indoors. On Monday he was elated to see temperatures around 50.
"This is great compared to last week. We had snow out here Friday," Weller marveled. "All week it's supposed to be great, so we're really looking forward to some nice weather."
McLouth baseball coach Clay Mayer said before the weather warmed up the past few days, his team just did what it could.
"We had to do various hitting and fielding drills inside, using anything from hitting tees to whiffle balls in various stations in the gym," Mayer said, adding that the confined space caused him to have pitchers and catchers work out after the rest of the team got done.
"It's been pretty frustrating not being able to get out on the field, but we just have to make do with what we have and make the most of it."
Freeman agreed with that line of thinking.
"Yes, it is hard to practice when you're not outside," he said. "But if you're not doing it, somewhere somebody else is and when you meet them, they will be better than you."
Patterson has taken the approach of embracing a tough situation.
"The temperature is never an issue. If you train when it's really bad outside, its' hard to give up," he said, noting that he believed his team would be better off down the road because of the less-than-perfect practice conditions in which the players have had to work. "You're not going to want to give up because of what you put in to get there."