Skate park organizers map out designs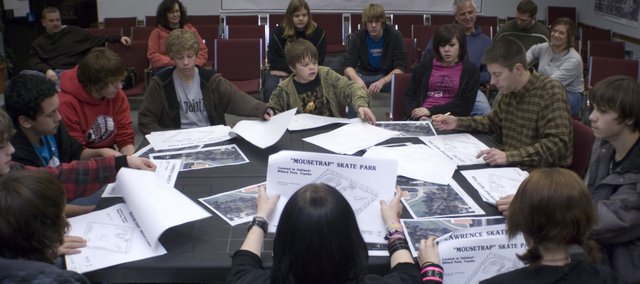 Half-pipes, pyramids and fun boxes were on the menu last Wednesday as members of Tonganoxie's skateboarding community met with City Administrator Mike Yanez and David Hamby, of BG Consultants, the city's engineering firm, to develop ideas for a Tonganoxie skate park.
Weston Jones, 14, who has been pushing for the new skate park was glad the ball was finally starting to roll for the park.
"It went pretty good," he said. "We actually got something designed. Before this, it's been like we were being pushed up against the wall and not getting anywhere."
The more than a dozen skaters who attended the meeting sat together around tables going through other skate parks designed by BG to see what features the skaters liked and didn't like.
Ideas that got a big consensus or improvements to old ideas were added to a list of things Hamby would design for Tonganoxie's park.
At times the skating lingo being thrown around the room confused Yanez, but he was glad Hamby and the skaters were speaking the same language.
"That is why you don't have politicians designing skate parks," he joked.
The skaters and the city were looking at designing a park that would not only be fun for Tonganoxie skaters, but would bring in people and their tax dollars from other towns.
"That is why I would not base this park with other parks," said Mickey Newman. "I would try to make it different. If it's different you will get people from all over to come because it's different."
A concern mentioned during the meeting came after Yanez suggested selling ad space on the skate park to help fund the park's construction.
Graffiti was a concern with the skaters.
Hamby, has had experience with graffiti problems. He said graffiti problems will eventually go away if it is painted over but it would be up to the skaters to make that happen.
"It's up to you guys to patrol it," Hamby said. "It is going to be your park and if there are problems you guys are going to be the first ones to hear about it. There is a lot of responsibility in having something like this and it will fall on your shoulders to keep it clean, get the trash picked up and police it."
Hamby also mentioned to the skaters that they may have to build the skate park in different phases depending on the money available.
At the end of the meeting Weston handed Hamby designs that the skaters had come up with last year.
Weston hopes that the meeting will reinvigorate interest in the skate park and attendance at monthly meetings devoted to development of the park.
Weston runs the meetings with his mother and father, Jan and Bill Jones, who have become familiar faces at city council meetings where they kept tabs on the council's plans for the skate park.
Skate park meetings are held at 7 p.m. on the second Wednesday of every month at the Tonganoxie Library, Third and Bury streets.