20th annual St. Patrick's Day parade
Residents brave cold for event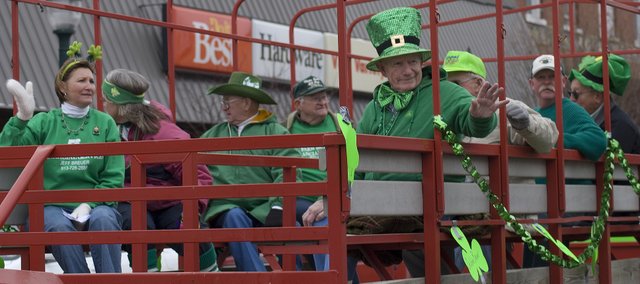 St. Patrick may have driven the snakes out of Ireland, but the country's patron saint wasn't able to drive away the cold from Saturday's parade in Tonganoxie.
Hundreds of Tonganoxie residents dressed in their winter coats - some even wrapped up in blankets - braved the 35-degree temperatures to watch the morning parade.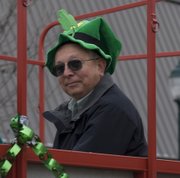 "It was an incredible turnout considering the weather," said Cheryl Hanback, director of the Tonganoxie Chamber of Commerce, an organization that helped sponsor the parade. "There was a lot of enthusiasm and it was a lot of fun."
While Tonganoxie residents were bundled up, some like Thomas O'Briant wanted to keep the occasion as authentic as possible by walking along downtown in his kilt.
"It's just a bit breezy in here," O'Briant said.
As a member of the Kansas City chapter of the Ancient Order of the Hibernians, O'Briant usually marches in the Kansas City, Mo., parade and does not attend the Tonganoxie parade. That changed this year.
"It's smaller, but I like it because it's a little more personal," he said about the downtown parade.
Photo Gallery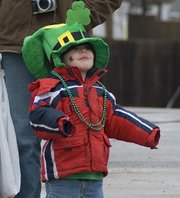 20th annual St. Patrick's Day Parade
This year's top float prize of $150 was awarded to Tuna's Tavern and Krouse Liquor store. The float consisted of a large papier-mâche beer mug, courtesy of Donna and Wesley Conrad; a green, white and orange rainbow with a nearby pot of gold, created by Jenny and Lee Polley; and Charlie Conrad and his leprechaun sidekick.
Charlie Conrad said he was happy to win fist place after winning second place last year and he plans on making an even better float for next year.
"Whatever it takes to make people laugh," Conrad said about his future float. "It's all just about the fun."
He said he plans on donating the prize money to a children's charity.
Other winners this year were: The Tonganoxie High School Band for best band, $100 prize; Henri Masonic Lodge for best open (non-float) award, $50; Tornado Alley for best dressed pet award, $50.
"I think it was enjoyed by all and it was a lot of fun," said Kay Soetaert, one of the parade's organizers. "We thought it was even more special because this was the 20th year."
Hanback and Soetaert said they wanted to thank everyone for coming out and to thank everyone who helped put on the parade including the sponsors.
Hanback said she hopes the parade will keep growing as the tradition gets older.
"We get more entries every year and every year it gets a little bigger and we get a little better at it," she said.