Beware of Bulldogs, ready to bite
McLouth High softball returns key hurlers, hitters from last year's 20-1 team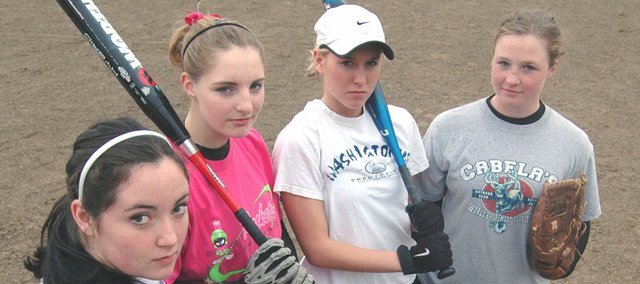 McLouth — Look out, Bulldogs opponents.
Fueled by the disappointing fashion in which its season ended last year in the postseason, the McLouth High softball team is loaded and ready to unleash on the competition.
Coming off of an incredible run last season when the Bulldogs entered the regional championship 20-0 before falling to eventual Class 3A state runner-up Silver Lake, the Bulldogs are now a year older, and presumably wiser. They're hoping to pick up right where they left off in 2007.
Sort of.
More than anything, MHS players and coaches want to improve on their remarkable 20-1 campaign.
"Our goal is to go to state," said senior center fielder Abby Annis. "So hopefully we'll do better than we did last year."
Junior Lezley "Lulu" Lawson, one of McLouth's two star pitchers who also plays first base, said expectations at MHS are "always high" and this year is no different.
"McLouth has a good reputation of having a successful softball team," Lawson said. "So I hope this year we can continue that tradition and take it a step further."
That goal appears to be reasonable. The Bulldogs outscored their opponents 208-4 during 18 regular-season games last season and not only does coach Ballard Patterson have all of his top run-producers returning, but he also thinks his freshmen will produce.
Given those facts, the coach has devised what on first glance seems like a less reasonable goal: Score 250 runs this year.
"That seems absolutely crazy for somebody to say," the third-year coach admitted.
But after totaling 218 runs last year he said this year's version of the Bulldogs is "probably 50 runs better."
Even if MHS doesn't reach that 250 mark, it will have a pair of pitchers with the ability to make that inconsequential.
"We've got two of the better pitchers in the state in 3A," Patterson opined, referring to Lawson and senior Samantha Farris.
The one-two attack of Lawson and Farris was stellar last season. Lawson finished the year 11-1 with 118 strikeouts and allowed eight runs in 67 innings. Farris, a two-time all-state selection, struck out 104 and allowed just two runs in a 9-0, 51-inning campaign.
As great as Farris is in the circle, Ballard said she is just as impressive and important at shortstop.
"She's just so strong. She's scary. She throws the ball like a man," Ballard said.
In the batter's box, Farris is the Bulldogs' cleanup hitter - she went 26-for-49 (.531) and batted in 21 runs in '07 - and follows junior Kendall Patterson, sophomore Missy Rome and Lawson in the lineup. All four hitters put up video-game-like numbers last season and their effectiveness often times gave MHS a two- or three-run cushion before its opponent ever recorded an out.
Patterson batted .700 with three home runs and 32 RBIs. She will again lead off this season, but Rome is the team's fastest threat on the basepaths.
"Missy Rome, if she's on first, she'll be on third in two pitches," Patterson said of the Bulldogs' top base thief.
What's more, Rome hit .625 with 19 RBIs and two homers last year.
In the three-hole, Lawson had a gaudy .714 average and pounded four bombs and 24 RBIs last season.
A self-described station-to-station coach, Patterson said the Bulldogs' potent lineup, which slugged 20 four-baggers last year - forced him to alter his approach.
"You kind of shrug your shoulders and go, 'Well, I'll take that,'" he said with a laugh.
The dominant MHS pitching and hitting makes the team great, but Patterson said its defense, including its outfield, is just as important. He praised senior right fielder Stacie Stauch and center fielder Annis, saying they shouldn't be overlooked.
The coach said the Bulldogs operate with a dual dominating mentality: "We're gonna go outscore you, and then we're gonna play lockdown defense."
Although MHS has lofty expectations and the talent to cash in on them, a state berth or title are by no means a foregone conclusion, Patterson said, calling the Class 3A field "ridiculous" in 2008.
Defending champion Salina Sacred Heart has won three straight state titles and is riding a 68-game winning streak. Silver Lake, the team that knocked McLouth out last year, didn't lose a player to graduation. Wichita-Independent, which lost to Sacred Heart in the state semis last year, Patterson said, is "completely loaded."
If that wasn't enough, the defending Class 4A champs, Thomas More Prep-Marian, is moving down to 3A as well.
"It's going to be tough," Patterson said. "It's a great year to be loaded, but somebody's going to be disappointed."
The Bulldogs just hope they will be feeling a different emotion come state tournament time at the end of May.