British army takes tactical training at Leavenworth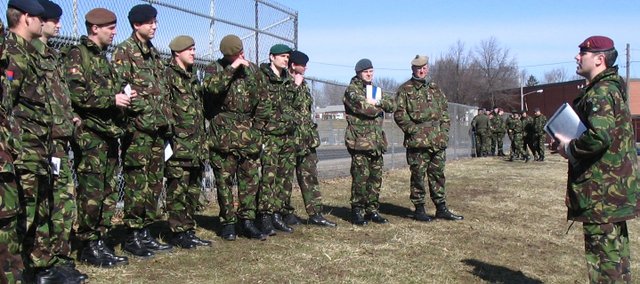 Thursday, March 6 may have seemed like any other day for most in Leavenworth, but for about 180 British officers, an enemy was on the loose threatening civilians.
Tactical forces were moved in. Soldiers took positions outside schools and churches. They prepared to isolate the terrorist activity.
While it may have been a fictional enemy, the tactical solutions used by the visiting officers with the United Kingdom's Intermediate Command and Staff Course were real ways to end threats.
The British soldiers, all recently promoted to major, are visiting Fort Leavenworth for a three-week training course where they are working with their American counterparts on planning operations. Maj. Philip Gill, with the U.K. force, said that coming to Kansas was a change of scenery that added new challenges and unfamiliar issues when solving problems.
"It makes us have to think completely different about a problem and takes us out of our comfort zone," Gill said.
The officers are in the midst of working on a nine-month officer-training course in Oxfordshire, England. For the last three years, the U.K. Command and Staff Course has sent about 200 British soldiers to America for training twice a year.
While here in Kansas, they will be given four scenarios of possible threats to a civilian community and must create a plan for a solution. The officers spent the first few days in the classroom coming up with a plan before moving outside for a walk-through.
"We understand the plan in theory, but we get to see what it looks like on the ground and how that affects what we thought about the plan in isolation," Gill said.
Already the officers have noticed major differences in America that put snags in many of their plans. For example, Gill said, cities in America are more spread out with lower buildings and grid-like streets.
Maj. Paul Birkett-Wendes, also with the U.K. force, said his group planned to build a bridge to cross the Missouri River, but when he actually saw it, realized it was much larger than expected.
"Us being here is part of the learning process, which we in turn will spread to the larger army," he said.
In addition to the lessons on tactical strategy, Gill said he is looking forward to socializing and bonding with American soldiers.
"It's an opportunity to understand how American armies do their planning process," he said. "When on operations together in the future, we can interact more easily."
The U.K. officers have also been competing against American officers in various sports since arriving. Birkett-Wendes said that was an important part of being an international army.
"It's all about building relationships," he said.