Countdown to splashdown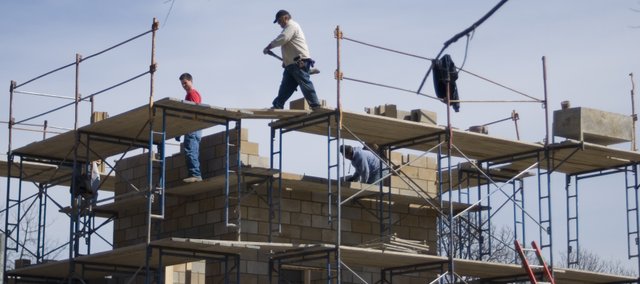 Eager swimmers who can't wait until the summer pool season begins will now have to wait until mid- to late-June before diving into Tonganoxie's new aquatic park.
The culprit? This year's unusual weather.
"In the month of February alone, out of the twenty working days we had we were only able to work four of them," said Louie Drackert, superintendent with Prosser Wilburt Construction Inc., who is contracted to build the pool. "The actual installation of the pool is on schedule, but the buildings are behind because of the weather."
In a construction schedule dated Feb. 7, and presented to the Tonganoxie City Council soon after, the estimated completion date for the entire project is set at June 24.
The actual pool was estimated to be completed on June 4, but the two projects that would be delayed would be the pump house, June 13, and the bathhouse, June 27.
Two weeks ago construction crews began laying the bricks for the new bathhouse, but Drackert said the process has been slowed by not just wet weather, but cold weather.
"If the temperature drops below 20 degrees, the crews can't lay a block," he said. "It will deteriorate the mortar."
Mike Yanez, Tonganoxie city administrator, echoed Drackert's reasons for the delay.
"It's just so weather-related," he said. "If we had a couple of weeks of nice weather [Prosser Wilburt] could accomplish a lot. Prosser Wilburt is pushing as hard as they can to get us open as close to the start of the season as we can."
Drackert said the next step in development is to continue working on the bathhouse. He hopes by this week to be installing the 25-foot tall slide. He also hoped for a long stretch of good weather to get the project back on track.
"Last week was the first 40-hour week we got since the first of December," Deckert said. "If we get another 40 week like that and we can get back on schedule."
He even thinks the project could finish before the estimated schedule if the weather cooperates.
On Monday, Gary Davis, project manager for the new pool, will speak to the city council and give members an update. The council meeting will be at 7 p.m. in council chambers, 321 Delaware.