Hundreds of birds once again flock to local winter haven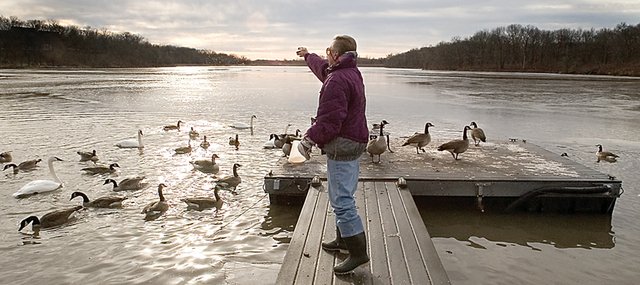 Every year David Isabell and his wife, Patricia, receive hundreds of guests from up north during the winter and hundreds more from the south each spring near their home on Bear Lake.
This year, those feathery visitors brought along some friends who took their time before leaving.
"I would be willing to bet at one point there were at least 1,000 or 1,500 of birds," David said. "They filled up one cove on the lake almost shoulder to shoulder"
Normally the lake would be a home for some swans such as the trumpeter and mute swans, which he feeds on a daily basis. The lake has been a temporary home to flocks of geese, but this year's geese population soared.
"There were thousands and thousands of geese," David said. "When they came, they just came in clouds of geese. They would start flying over the house and it would take them three or four minutes to fly over. They had a schedule too. They would leave sometime in the morning and come back to roost before sunset."
David and his wife keep track of the swans and their offspring. They love being able to take care of some of the birds and watching out for rare sights like the possible offspring of an Egyptian goose and a pilgrim goose and the bald eagle that made the lake its home for a few days.
But the large number of birds made the area quite messy because David said the birds are pretty indiscriminate on where they leave their excrement. He also said the sheer weight of all of the birds on his dock made him worry that they were going to sink it.
Chuck Herman, president of the Jayhawk Audubon Society, said there could be many factors in why there were more birds and why they stuck around longer, but he suspects weather played a major role.
"What [David] saw is probably related to the winters up north in the northern states," Herman said. "They've had a lot more snow and cold than is even normal for them. That kind of situation drives any type of migratory bird farther south or keeps them down here longer."
The longer stay is not a problem for David if the birds that are staying are the swans.
"I really wouldn't care if the trumpeters would stay here year round," he said. "It's just some of those geese. I don't want them. They are too messy."