LCDC

encouraged to narrow its focus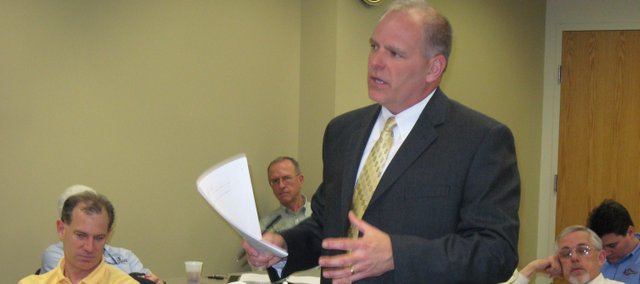 Leavenworth County Development Corp. board members broke out of the mold and voiced their personal thoughts about the direction and effectiveness of LCDC rather than merely listening to material presented in an informational format. The discussion took place during a meeting Thursday in which a strategic plan for the organization received an official blessing.
Irv Jensen, a hired consultant with Iowa-based Smart Solutions Inc., set the framework for Thursday's discussion by reviewing the proposed strategic plan, which had been in the works for roughly five months.
Jensen reiterated LCDC's mission "to coordinate and facilitate the retention, expansion and attraction of primary businesses within Leavenworth County" and recommended ways to reorganize, reenergize and unify the group.
One of Jensen's fundamental points was to form action-oriented taskforces to achieve specific projects rather than maintaining long-standing committees.
He encouraged board members to narrow their focus to three or four specific tasks by June rather than trying to achieve 10 or 12 things all at once.
Another goal Jensen mentioned, based on findings from a recent survey of 30 "stakeholders" in the county, was a need for unity.
"Clearly, there was a very strong sentiment that we're not as unified as we should be to be effective," he said.
LCDC president Tony Kramer added to Jensen's point, with the metaphor, "I can plow a lot more ground if I have four horses pulling together rather than going in individual directions."
Kramer said he saw LCDC as the one place where business and government leaders can come together as a cohesive unit to grow the tax base and create jobs in the county without letting past disagreements and individual communities' agendas get in the way.
On that note, Kramer then asked board members to break out for 15 minutes in small groups to discuss where LCDC's priorities should lie over the next five years.
After rejoining, nearly all of LCDC's 21 public and private board members offered their thoughts.
Leavenworth County Port Authority chairman Terry Andrews began by saying he has been involved with the county's economic development since Leavenworth Area Development's inception in 1981, and since then, the overall concept has changed little.
He said a main goal of LCDC and the port authority, now, should be locating a site for a new industrial park in the county as available land for development is decreasing.
Andrews said he was encouraged by efforts to reorganize but added, "If it's going to work, it's going to take a lot more volunteer effort and time and we might need to hire more staff : We're all going to have to pitch in."
Lansing City Administrator Mike Smith then spoke up, citing a need to reduce overlap with other organizations like individual chambers of commerce.
Smith suggested getting away from expenditures of a "touchy-feely" nature - like relying on advertisements to sell the county - and rather using LCDC's funding to put community leaders directly in touch with companies looking to locate in Leavenworth.
For Basehor City Administrator Carl Slaugh, LCDC is a vital organization, especially because the city does not have economic development personnel of its own.
"We rely on LCDC to do that work for us," Slaugh said.
He added that sometimes the group's focus is too widespread, however. He reminded board members that their actual authority is limited in terms of what they can and cannot accomplish.
"I think if we tailor the things we get involved in to really closer to what we have authority to take action on, we might be more effective," Slaugh said.
Leavenworth banker and former LCDC executive director Bill Petrie echoed that sentiment.
"We're a facilitator," Petrie said, "because we don't have the power or the strength of any municipality or the county, but we have the ability to bring everybody together for a common goal."
One aspect that Tonganoxie City Administrator Mike Yanez focused on was the idea of incorporating retail development into LCDC's traditional focus on industrial and commercial growth, should additional funding be made available.
LCDC executive director Steve Jack said, ordinarily, LCDC does not handle retail leads. When a retailer approaches LCDC staff, Jack said usually that prospect is referred to a specific developer or to a city or municipality itself.
Despite the critical nature of some of Thursday's discussion, many board members voiced a willingness to go forward with suggested changes, and many noted positive aspects of economic development work recently in the county.
David Schroeder, with Great Western Manufacturing, said he was impressed by a countywide effort to come together in an attempt to draw the proposed National Bio and Agro-Defense Facility to the area.
"It didn't happen, but it was a good effort," Schroeder said.
J.C. Tibbetts, a member of the port authority's land search committee, said he has seen many walls come down between municipalities with the committee's efforts.
Chris Donnelly, a Tonganoxie banker and chairman of LCDC's infrastructure committee, moved to accept the strategic plan document as presented, and his motion was unanimously approved.
As far as where LCDC will go now after Thursday's big picture talks, Kramer said an April meeting will focus on barriers standing in the way of the group's progress, with members then working to institutionalize several specific taskforces before joining in a large-scale economic development summit this summer.