McLouth department in limbo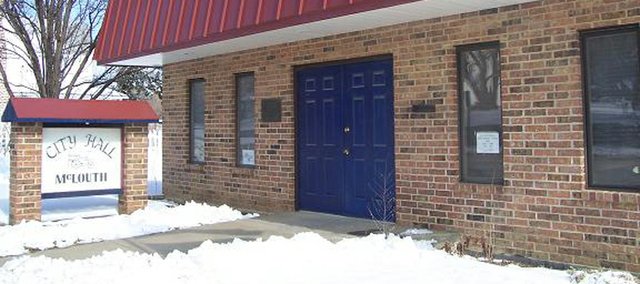 The suspension of McLouth's police chief appears to have been lifted.
McLouth City Clerk Nicole Willits said Tuesday that police Chief Tom Burns' suspension was lifted Monday. However, she also said he typically is off on Mondays. In addition, Willits said Monday that Burns planned to be at Tuesday's council meeting, but didn't have any other information beyond that.
McLouth Mayor Mike Graveman said Friday that he informed Chief Tom Burns that he was being put on leave for four days and that he would be able to return to his position Monday.
However, when asked Tuesday whether Burns was finished with his suspension, Graveman said he could not comment because of personnel matters.
On Friday, Graveman declined to release any specifics about Burns' suspension. The mayor also said Wade Noll, a deputy with the Jefferson County Sheriff's Office, no longer was working in any capacity for the McLouth department. Noll had been logging hours patrolling for McLouth Police in addition to his county position.
"Those two actions happened because of different actions and different reasons," Graveman said. "They were not related."
The city council met Wednesday for a special meeting to discuss non-elected personnel and attorney-client privilege, Graveman said. But he declined to say whether Burns' situation was discussed, citing that it was a privacy matter of an employee.
"I can't discuss the decision-making process, but I talked to Tom myself," said Graveman, noting that Burns did not meet with the council.
Danny Ruff, a Tonganoxie police officer, was serving as acting police chief. Ruff also works part-time in McLouth.
When McLouth resident Barbara Hasemeier learned about the situation Thursday, she started contacting as many people about the situation as she could. She also contacted various local law enforcement departments regarding the situation and informed them that she was patrolling the city Thursday and Friday nights as a "private citizen." She also said she kept the proper authorities updated on what she was doing, Hasemeier also said an officer was in McLouth on Saturday night and Sunday.
Hasemeier said she was disappointed with how Burns' situation was handled.
"As far as Tommy's concerned, I feel the council should have warned him and not let this happen again instead of immediately putting him on suspension or non-pay administrative leave," she said. "In other words, this is micro-managing and not letting the department heads do what they're supposed to do."
Graveman noted that Burns, who is paid on an hourly basis, does not work weekend shifts. Burns could not be reached for comment on the matter.
McLouth held a work session at 6 p.m. and its regular meeting at 7 p.m. Tuesday. Although the meeting did not meet The Mirror's deadline, additional coverage may be found online at www.tonganoxiemirror.com and in the March 26 print edition of The Mirror.