Ugly no longer,
MHS

baseball sitting pretty in '08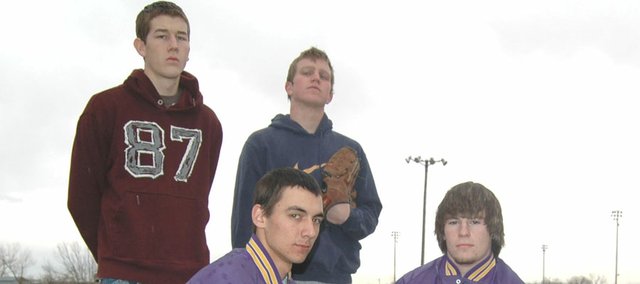 McLouth — Spending the previous two seasons as the head coach after four years as an assistant, Clay Mayer has seen just about everything in the history of the young McLouth High baseball program.
Like a moviegoer at a Clint Eastwood film festival, Mayer has seen the good, the bad and the ugly - but in reverse.
The good finally came last year when the Bulldogs posted their first winning record (9-5) in team history.
The development of the eighth-year program has been rewarding for Mayer to watch.
"We took some lumps the first couple of years we had the program," he said. "It wasn't pretty - a lot of guys didn't understand what high school baseball was all about."
With four seniors returning and confidence at an all-time high, the hard times appear to be in the rear-view mirror.
Senior third baseman and catcher Ryan Smith, who along with fellow senior Mark Stewart has started since arriving at MHS as a freshman, has seen the team's attitude change in his time on the diamond.
"When we first got here it was kind of fun," he said, "and then we started winning games."
That's when the real fun began. And 2007 might have been even more enjoyable for the Bulldogs if a chunk of their schedule hadn't been rained out.
"It was heartbreaking because six of our games - three of our doubleheaders - were against teams that got run-ruled by teams that we beat," Mayer said. "It was frustrating not to get those six wins on the schedule."
Regardless of what this season's weather forecasts hold, MHS is expecting a spring full of wins, said Smith, who batted .425 last year with a pair of home runs and six doubles.
"We're feeling pretty good about the team," said the right-hander who also pitches. "We're hoping to take regionals this year and get a state berth."
Stewart, who doubles as a pitcher and catcher, said the MHS seniors - he, Smith, Brain Kabus and Mike Rome - want to end their careers by leaving the program in better condition. Their goals include protecting their home field (which will be important with road dates outnumbering home contests, 6-4, on the schedule), winning the Delaware Valley League title and a slot in the state championship.
"You always want to go out with a bang, on a high note," said Stewart, who last year hit .523 with 12 RBIs.
Kabus, a catcher and infielder who batted .407 last year, fully expects the Bulldogs' success from last season to carry over.
"We did have our best season in school history last year and spirits are high," he said. "I think we're going to best it again this year."
If that proves to be the case, the Bulldogs will have to overcome at least one obstacle, which has already revealed itself. Rome, an outfielder and pitcher who hit .489 with seven RBIs in '07, has a cast on his right arm and is not expected to return until April. But Rome thinks the team's chemistry might help it overcome his injury or any other setbacks the Bulldogs might encounter.
"Our best strength would probably be coming together as a team," he said. "Everybody gets along with each other."
Mayer agreed that the team, which also has some underclassmen he expects to contribute, has gelled in the weeks leading up to the season, and has been a coachable bunch.
"They've set some high expectations for themselves," he said, alluding to a possible DVL title, "which makes it really easy for me."
Those aspirations prove that the days of ugly and bad should be behind the Bulldogs.
"There's been a lot of ups and downs," the third-year coach said, reflecting on the growth of the program. "It's on its way:The future's looking pretty good."