New fast-food facade
Tonganoxie Sonic undergoes extensive list of renovations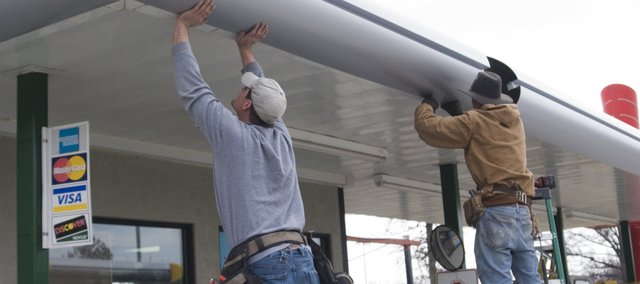 A staple fast-food restaurant in Tonganoxie is getting a face-lift.
Earlier this week construction crews started working on updating the look of the Sonic Drive-in restaurant, 650 Northstar Ct.
The new look will feature a more energy efficient design by eliminating the old neon lights and replacing them with LED lights. The new design also incorporates compact florescent bulbs to backlight the menu.
Charlie Krout, supervising partner for the Sonic Drive-in restaurants in Tonganoxie and in Basehor, said the remodel will make the restaurant look more modern and will keep it looking fresh for the next 10 years.
"I love it," Krout said. "I think it's going to be great. I like the old look, but this one has got a much sleeker design a much better design for the customers too. It's a mix between the old and new."
Krout said the new look, which will cost more than $150,000, was mandated by Sonic drive-in corporate headquarters to make all of their restaurants look more uniform. Krout is a supervising partner with Briley Sonics, a franchisee that owns several Sonics in Kansas, including Tonganoxie and Basehor, as well as a few restaurants in Iowa and Missouri.
During the construction the restaurant will remain open, but Krout said he might have to shut down some stalls to keep his customers safe.
"I would rather inconvenience a customer and shut a few stalls down than to hurt a customer," he said. "So far we've been able to stay open and we anticipate being able to stay open the whole time. But at any moment if we feel that we are doing something that can be dangerous we will shut those stalls down."
The project is scheduled to be completed by the middle of next week.
Read more about the remodel in the March 26 edition of The Mirror.