The least dangerous game
Egg-stravaganza hops through Chieftain Park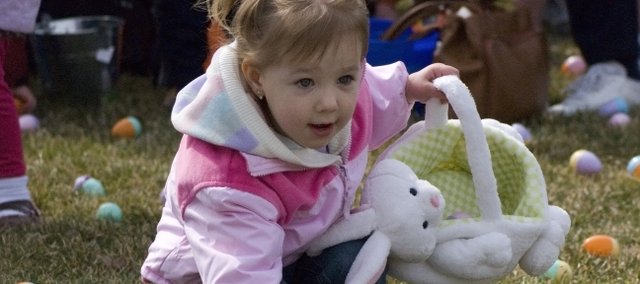 Ryan and Noah Beach had an advantage in this year's annual Easter egg hunt at Chieftain Park.
While other children spent their mornings playing with toys or spending time with family, the two McLouth boys were already honing their running and grabbing skills at another egg hunt sponsored by their dad's workplace.
By the time they got to Tonganoxie baskets already half-full the Beach boys were ready for the hunt.
"They got the hang of it this morning so they were quick," Lara Beach said about her sons. "They had lots of fun."
On Sunday about 500 people crowded in lines waiting for Gayle Parker, director of the Tonganoxie Recreation Commission, to sound the alarm signaling the start of the hunt.
The crowd grew anxious as they waited for the starting signal. Parker had allotted some extra time for latecomers.
At the sound of the bullhorn the kids were off, scrambling to grab hold of their encapsulated treats.
Many were victorious and proudly displayed the spoils of the hunt in their pastel containers. Those who were too intimidated by the ensuing chaos, or who weren't quick enough on the draw, were temporarily left empty handed.
But there was no need to worry, Parker made sure everyone got some of the 5,000 eggs purchased by the commission.
"It's all about the kids and families and everybody has a good time with it," Parker said.
Like last year, this year's event included the Tonganoxie Police Department and Fire Department, along with a bounce house, a petting zoo and a visit from the Easter Bunny.
Missing from this year's event were frigid temperatures and the Tonganoxie High School students' face-painting booth.
Read more about this weekend's Easter egg hunt in the March 26 edition of The Mirror.