Chieftains having a ball, staying loose this season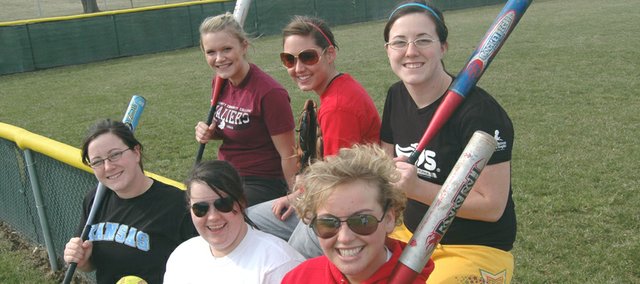 The wind was whipping, but the sun was shining on Monday at Leavenworth County Fairgrounds.
Tonganoxie High softball coach Diane Titterington was shouting out instructions over the intermittent air gusts as she put her players through some warmup drills at practice.
Then senior Melissa Pratt ran up behind the coach and flopped a black softball glove on the ground in front of her.
"You owe me a Twix," Pratt told her coach with a smile.
Seems the coach had broken one of the team rules by leaving a piece of equipment on the field last week when she hurriedly left practice early for a meeting. Rule goes: The person who leaves stuff on the field owes the person cleaning up the mess some food for the trouble.
Titterington chuckled and promised to pay Pratt back with two chocolate-covered cookie bars.
Yeah, things are pretty loose for the Chieftains as they prepare for their upcoming season. And that's the way they like it, senior center fielder Lindsey Himpel said.
"I think we're all just going with the flow and we all want to have fun this year and do well," Himpel, who batted .403 with five doubles and five triples last year, said of the team's expectations. "We all like to talk a lot and have a lot of fun, so we try to keep everyone having fun, but at the same time getting a lot out of practice and accomplishing as much as possible."
Senior first baseman Ashlee Lohman, known for her defensive abilities, said free and fun is how this year's senior class, which also includes Amanda Albert, Himpel, Mallorie Knight and twins Megan and Melissa Pratt, likes to roll.
"We keep a positive attitude. We try to help underclassmen. We have an awesome group of seniors this year," Lohman, who committed just two errors while handling the ball 99 times last year, said. "That should spark something good."
After going to state in 2006, THS went 8-7 last year and fell to Eudora, 5-3, in a regional playoff game.
Good news about the bad ending, only one player from last season's team isn't returning. Bad news about the good news, that player was No. 1 pitcher Amie Riddle, who threw all four years as a Chieftain.
Titterington acknowledged the challenges the loss of Riddle has created.
"That's going to be a big adjustment for us," she said. "I'm trying to find the right mix of pitchers that can get us where we need to go this year."
As of now, the team's top hurlers appear to be Albert, who pitched in spots last season, and Melissa Pratt, but Pratt is the team's first-string catcher so even that answer could provide additional challenges.
While Titterington is cautiously optimistic about 2008, her reason for being so lies in the Chieftains' bats. She said the offense could potentially match or better the output of the '06 state squad, which was comprised of many of the team's current players.
"We basically have a lot of the same people who went to state so we've got a lot of experience still there," Titterington said.
Although "Big Mel," as Melissa Pratt has been nicknamed for her slugging prowess, would never admit as much, she is the batter that Chieftain opponents don't want to face. She hit .413, had two homers and 17 RBI while reaching base in half of her plate appearances and slugging .717 last season.
Pratt thinks the THS bats will be critical this season.
"Hopefully we're going to have a strong offense, better than last year," she said, emphasizing that run-producing will be important as the team identifies its top pitchers early in the season. "We have some really strong hitters all throughout the lineup."
The coach thinks her players have been bonding well in preseason practices, despite school functions, illnesses and spring break wreaking havoc on the team's complete availability. Titterington said the team is a fun group with no ego issues that spends more time laughing than complaining.
"They're melding well together and I love that," she said.
The players hope the positive vibes they have created will lead to success, such as a league title and a state berth, once the season ends.
"We've just got to keep positive about this year," Lohman said. "We've got a lot of potential to do amazing things, so people better watch out."
The season starts on the road at 4:30 p.m. Thursday when the Chieftains head to Jeff West.