City council briefs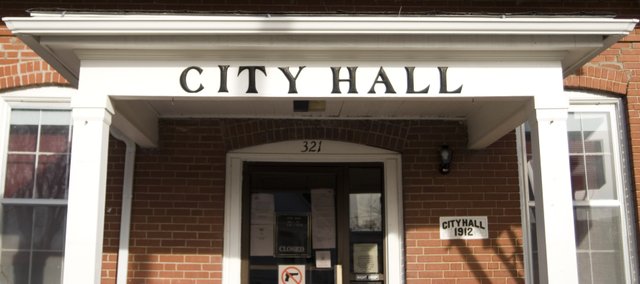 During the approval of the consent agenda during Monday's Tonganoxie City Council meeting, council member Paula Crook voiced her concerns about a $342,342 contract with Meadows Construction Company Inc. for their work on Pleasant Street.
She was concerned that the half million dollar public works project to widen Pleasant Street should have had the subcontracting work put out for a formal bid.
"I don't understand why we are just handing these jobs to one contractor," Crook said about the contract with Meadows Construction. "It's the same contractor time and time again."
City Administrator Mike Yanez argued that the city has saved hundreds of thousands of dollars by giving certain projects to the Public Works Department to manage and get the lowest price possible.
"Since I've been here it's been our usual practice that whenever we have a street job it's just given to the public works department," he said. "The public works department then shops around and gets some quotes on the work."
Council member Jason Ward agreed that the city needed to determine a point at which certain jobs needed to be put out for bid, but he didn't want the council to get too involved and start to micromanage each department. "It's very important that we maintain a high level of credibility in how we conduct business and deal with the public tax dollars," Yanez said. "If it takes a higher level of transparency than certainly this administration will provide that. I don't want people in town to think that we are a 'good ol' boy' type community."
At the request of Tonganoxie Mayor Mike Vestal, Mike Kelly, the city attorney, will give his opinion whether the city should put any subcontracting work from public works projects up for bid.
The council voted 31 to pay Meadows Construction with Crook being the dissenting vote. Council member Steve Gumm was absent from the meeting.
vvv
The council listened to a request from Bill Peak, who came on behalf of the Tonganoxie Community Historical Society, for any donations that would go toward the repair of the roof on the society's barn.
"We are self-supported by soup and chili dinners, sales of concessions, rental of the activity center and the church and endless hours of maintenance performed by our volunteers that we could otherwise not afford," Peak said. "We are at a crossroads in funding and in our growth and maintenance needs."
Although the society had need for money in different areas, Peak said roof repair was the number one priority. Without adequate protection, many of the society's artifacts could be damaged from the elements.
The council asked Peak for a specific dollar amount, but Peak was not sure exactly how much it would cost to repair the roof. He estimated it would take around $20,000.
"As my grandmother used to say, 'If it's a good organization give until it hurts. You'll feel better later and so will they,'" Peak said.
Yanez asked Peak to bring the amount they wanted to city hall with a breakdown of what the money would be used for.
"I would love to be able to do this, but it's a matter of where we get it from," he replied.
Kathy Bard, assistant city administrator said that the city's transient guest tax is money that is used for tourism in the city. She felt that funds from that account could be used for the community historical society, but she wasn't exactly sure how much money was available.
"It's not going to be anywhere near enough to make a roof," she said.
Council member Tom Putthoff was concerned that giving money to the society would set a precedent for other organizations looking for funding.
Kelly said that it would not because the city donates money to the Alliance Against Family Violence and also waives permit fees for other organizations during the year.
Yanez asked Peak to come back during today's special meeting after turning in the funding request and said city staff will look to see what kind of funding options were available.
vvv
In other business the city council:
¢ Unanimously voted to approve change order No. 2 for geotechnical services for the new public works facility. The change order, which is not to exceed $2,500, was needed because of concerns with the soil quality near the site of the new sand and salt storage shelter.
¢ Unanimously voted to accept charter ordinance 18. The charter ordinance states that at least five people appointed to the Library Board will be residents of Tonganoxie and the balance of the members should live within the Tonganoxie School District.
¢ Listened to a construction update from Brian Combes of Combes Construction about the new public works facility and Gary Davis of Prosser Wilburt Construction about the construction of the new pool.
Combes said his crews have been slowed down by this year's weather so the facility is behind schedule. He said his original work schedule had the completion date in March, but he expects the work will be done by April contingent that the weather conditions improve. The only other slowdown could also come from what engineers say about the recent soil samples taken from the site of the sand and salt shelter.
Davis said he is looking at around mid June before the pool will be finished.
"We are going to push it as hard as we can," he said. "I wish I was a lot further along that I am right now."
Davis said that the weather has really been a major slowdown.
¢ Discussed a new policy that would determine how the city will hand out funding to organizations in the future.
Yanez said with the current economic environment, he expected a short fall in funding for some organizations. He believes that establishing criteria could help the council determine if an organization receives city money.
Some of the criteria in the draft policy includes: Whether the city provides a service to the overall community; what the local reaction to the group is; does the organization have a high quality level of fiscal management and does the organization make its services available to all.
No action was taken on the draft policy, but council members were encouraged to make changes before adoption at a future meeting.
¢ Took no action to change the city's agent service for their property and casualty insurance.
Yanez said that the city has been receiving their insurance coverage from Evans Real Estate Company and since his bid was competitive to stay with Evans because, "If it ain't broke don't fix it.
"Considering the level of services the city has received from Evans Real Estate Company and the quality level of response we have received from Evans Real Estate Company and our high level of confidence as EMC as our insurance company, we think that we should stay with Evans Real Estate and next year bid out our liability insurance and our agent," Yanez said.
¢ Unanimously voted to carry over Yanez's 138 hours of accrued annual leave into his next anniversary year, which begins on April 4, 2008. The council approved the carry over under the condition that Yanez begin to take his vacation time during the year and not carry it over into other years.
¢ Unanimously voted to schedule a special meeting for 7 p.m. today to listen to a proposal from the Kansas State University Center for Engagement and Community Development. The meeting will determine what funding, if any, will be available to the Tonganoxie Community Historical Society.
Yanez encouraged community members and business owners to attend the meeting.