Decade already in the books for Mr. Goodcents restaurant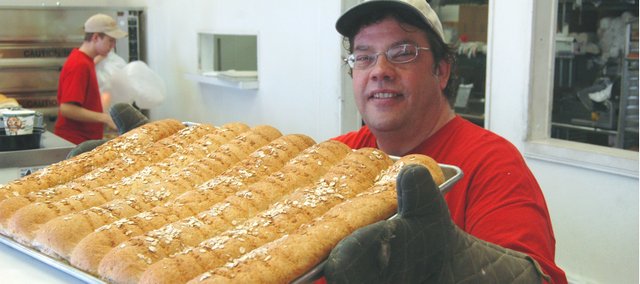 There was a time when Mark Matheson didn't think Tonganoxie was a viable choice for a new Mr. Goodcents venue.
More than a decade later, Matheson would be the first to admit he was wrong.
Now the owner of the local eatery, which celebrated its 10th anniversary in Tonganoxie on March 18, Matheson was the vice-president of operations for the franchise's parent company when the venue's original owner, Paul Mayse, inquired about opening a Mr. Goodcents in town.
"We took a plane and flew over Tonganoxie and we advised him not to open the restaurant," Matheson recalled before laughing heartily at his lack of foresight.
At that time, there were no chain restaurants in Tonganoxie, but Mr. Goodcents became the first in 1998.
When Matheson retired from his executive position in 2001, he and his wife, Monica, decided to operate a franchise and purchased the Tonganoxie Goodcents that August.
"We were ready to move and we could've picked any Goodcents in the country, but we just really liked this one," he said, noting that the combination of small town appeal, their rapport with the employees and his involvement with the restaurant's setup made it an attractive choice.
Matheson said the operation has been able to succeed for a decade because of its employees. A tenured crew, Matheson's staff includes an employee with nine years experience and another with six.
"We've had entire families where their kids have worked here as they've grown up," he said. "I think in that way we've been a boon to the community."
The staff members and the restaurant have been rewarded for service and innovation. Tonganoxie's Mr. Goodcents was the first to offer a breakfast menu with extended hours and has been doing so for eight years.
Although Matheson said the morning menu wasn't the main reason for the site's success, it was an atypical way to bring in money during a time of day when employees were often there anyway baking bread or cutting vegetables.
It has, however, been successful because it offers customers choices that many national chains do not. Matheson had to forget many principles that had made him successful at the corporate level when he became an owner.
"The first thing I had to lose was my corporate mentality," he said, adding that he does that by accepting checks and even setting up a tab for people who are low on money.
Things are much different for Matheson as an owner. He knows many of the customers by name and no longer has to deal with corporate headaches.
"I used to get phone calls from all over the country - California, Florida. Whenever there was a problem it landed on my desk," he said of his former vice-president position.
Now things are much more relaxed. Even though either he or his wife are in the restaurant at some point every day, Matheson said his staff makes the job easy.
"I'm really more of an overseer because the crew does such a great job," he said, noting that he's never had an employee be a no-show for a shift.
That might be the result of the staff's camaraderie.
"Many restaurants are pressure-cookers and stress," Matheson said, explaining that just the opposite is the case at Goodcents. "I've been doing this all my life and one thing I've determined is I'm not going to work in an environment like that."
That's the kind of thinking that should keep Mr. Goodcents viable in Tonganoxie for years to come.