Despite first year success, coach says forget about it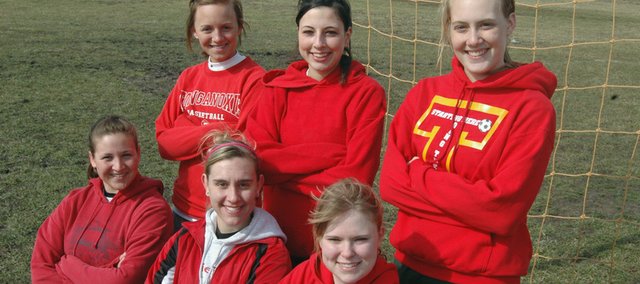 Don't get too comfortable.
Who knew that would be the battle cry for the Tonganoxie High girls soccer team, entering only its second year of existence?
Following a surprisingly successful inaugural season - the Chieftains finished 6-9 and scored a 3-2 first-round victory against Ottawa in Class 5A-1A regional play - for the upstart program in 2007, coach Ken Lott is warning his players not to get overconfident.
While the team caught some opponents off guard last season and has a whopping 10 seniors, Lott knows last year's success doesn't mean automatic improvement in 2008 and he has been preaching that at practice.
"They have to start over. I think a lot of them feel like we should be able to do better," he said, adding that it may be preseason jitters, but he is a little nervous about the team's attitude. "It doesn't look like we have maybe the same intensity that we had last year."
Things definitely feel different this time around, but Lott said the Chieftains, with so many players returning, are a close-knit group that is coming together well from a chemistry standpoint.
"I think the girls who played last year have an idea of what we're trying to do," he said. "I feel pretty confident that we'll have a good, solid team."
THS should be led by its senior class this year. Alexa Moreno led the team with nine goals and nine assists last season. In goal, fellow senior Sarah Flaherty recorded 291 saves in 2007. The senior class also includes Katie Coleman, Lindsey Gonser, Ashli Koch, Raylynn Laster, Kayla Oelschlaeger, Cally Owsley, Kaitlyn Saatahoff and Kristen Titterington.
Owsley scored five goals as a junior and now as one of the team's many senior leaders, she thinks things could go much smoother this year because the Chieftains won't be taking any baby steps.
Last year the roster featured several girls who had never played organized soccer before and that might have held back the team's development.
"This year we can actually work on our offense and different techniques rather than just teaching new people the basics," Owsley said.
But once they got past that, the Chieftains were able to find success. Gonser, a defender, said preseason practices this season are better and the Chieftains are more comfortable playing together.
"It's a lot easier. Last year was fun. It was easy getting your feet wet," Gonser said, "and this year we actually know what we're doing and we have the same girls coming back and we know who we're playing with."
What's more, while the team improves on passing, touches and communicating, they are also improving their relationships.
"Everybody's good friends," Gonser said. "The team is like my second family."
That family has some talented juniors in it as well. Addy Phelps netted five goals in 2007 and Jordan Gagne scored four.
Lott said a number of his players worked in the offseason by playing for indoor futsal teams and he thinks those repetitions could pay off if the players can translate that action to the field. Although he doesn't yet know if the team will be characterized as offensive or defensive, he said communication appears to be the team's biggest strength at this point and he'll have a better feel for things once the Chieftains get a few games under their belts.
Ultimately, Lott wants the team to improve upon its win total from last year as well as replicate some postseason success. But the Chieftains won't sneak up on anyone in their second season.
"It's not going to be easy because there's a lot of teams out there that are looking for blood from us because they didn't think that we probably should have beat them the first year," Lott said.
That, more than anything, might be the best reason for the team to stay humble. And if they avoid overconfidence, the Chieftains' goals appear attainable.
"I think if we can work together," Owsley said, "then we'll definitely be able to do a lot better."