Teddy bear teatime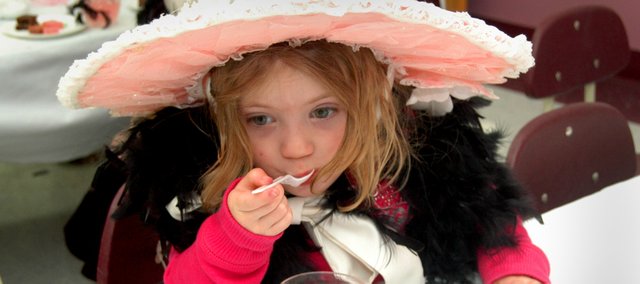 A few local girls played dress-up to a "tea" recently at Tonganoxie Public Library.
The first Teddy Bear Tea Party, which the library and Tonganoxie Recreation Commission co-sponsored, attracted about 10 girls ages 2 to 8 to the library Wednesday, March 19.
Girls were encouraged to bring their favorite teddy bear or doll to the event.
Bonnets and boas were made available for the girls to wear. In addition, for the "tea," TRC assistant director Paula Bollinger served watered-down pink lemonade. The youths were then given sugar cubes to put in their pink lemonade "tea," which Bollinger said was quite the hit.
Various snacks were served, and library programming assistant Carolyn Courtney read several books to the girls.
Bollinger said she got the idea for a tea party from Brenda Graves, who owns Graves Dance Studio.
"Brenda was my inspiration," Bollinger said.
Along with providing hats and boas, Graves also played the part, wearing the proper wardrobe from head to toe.
"I thought it would be fun," Graves said, "and it was."