They might be giants
Tonganoxie High baseball improving under direction of Loomis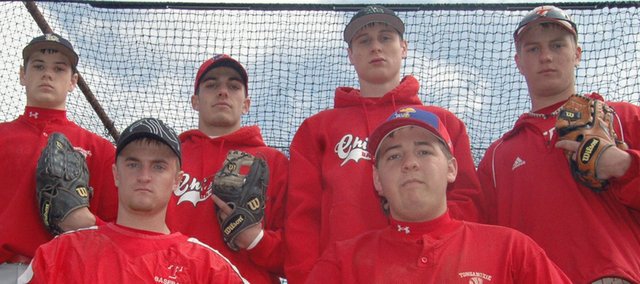 Chieftains baseball appears to be on the upswing.
With steady improvement the last two seasons under the guidance of third-year coach Phil Loomis and eight players with starting experience returning, Tonganoxie High hopes that trend will continue in 2008.
In his first season as coach THS went 6-16 in 2006. Last year the Chieftains lost to Piper, 3-0, in its regional playoff game and finished 8-9. Loomis said the squad has developed nicely during his time as coach.
"We were very young early. As they matured we started to understand how difficult the game can be and how much it takes to develop into - what I would like to see - a state-caliber team," he said.
One of six seniors, Erick Lowe said expectations, such as any conversation of state, this season would be more lofty for the first time in a while.
"I think they should be a lot higher. We've been down for five or six years," the pitcher and first baseman said. "Everybody's fed up with losing. We've been working harder. Everybody's more serious. We're ready to turn things around this season."
Lowe (2-2, 4.60 ERA in 2007) is expected to do most of his damage on the mound this year, but Tonganoxie's other five seniors - Todd Brown (.250 batting 2007 average), Grant Ebbert (.333), Logan Forbis (.285, six doubles), Jared Lamb (.259) and Keith Wentz-Hall (.278) - should provide some offense.
"We're going to hit the ball a lot better this season," Lowe predicted, citing improved bat speed across the roster.
A pair of juniors should also provide some punch in the lineup. Jace Waters batted .360, hit six doubles and scored 12 runs in 2007. Third baseman Blaize Oelschlaeger hit .260.
But Loomis was the first to admit that slugging wasn't the Chieftains' forte.
"We definitely don't rely on three-run homers," he said. "In our two years here we've hit one home run. We try to make sure to put the ball in play, put some pressure on people."
The coach said if the Chieftains have to play small ball, they should have a pair of reliable pitchers in Lowe and Forbis (1-2, 4.10 ERA, 25 strikeouts).
"Right now our pitching looks strong. We've got a couple of seniors, Logan and Erick, who have a lot of experience," Loomis said. "If they come out and throw strikes, they have the arms to be successful."
Wentz-Hall, who teams with Waters to make a formidable middle infield, said the team's roster has come a long way in the last few years.
"We've got a lot of experience now," he said. "Plus, the underclassmen are really stepping up a lot this year."
Although there are no superstars on the roster, Wentz-Hall said each player is depended on for his particular role.
"Everybody has a lot of experience," the senior said. "There's not really one person who's just good at everything. Everybody's just good at their one little thing."
The most noticeable losses from the 2007 Chieftains are former center fielder Danny Volk, now playing collegiate ball at Alabama-Birmingham, and catcher Jake Heskett. Loomis said the team must overcome those voids.
"We're struggling to find a replacement there right now," he said. "If those two can get filled, hopefully things will work out real well."
THS won't have much time to solidify those two crucial spots. The Chieftains' 2008 campaign begins at 4 p.m. Thursday at home against Bonner Springs and Loomis has told his team, which also plays host to Perry-Lecompton at 4:30 p.m. on Friday, that starting the season on the right note could be just as critical.
"If we don't start off well, the season can go down the hole real quick," Loomis said. "I think that's our goal right now, just to start well."
If the Chieftains continue their improving ways for Loomis, those goals will grow as the team does, Lowe said.
"We want to get to state," he said. "That's what everybody's goal is."
Should THS advance that far, it likely will mean going through perennial powers such as Hayden and Bishop Ward. BW has won five straight Class 4A titles.
"Everybody wants that to change," Lowe said. "So one of our goals is to get them out of there and maybe take their spot."