Vehicle falls off car hauler in accident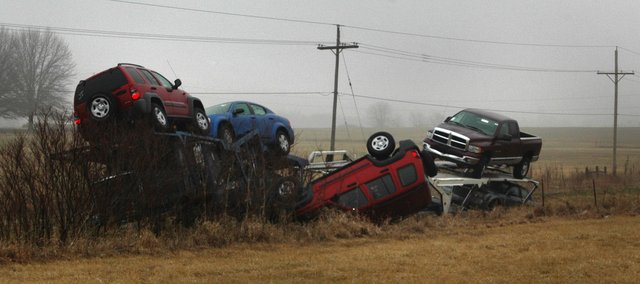 Technically, there was a multiple-vehicle accident Wednesday evening south of Tonganoxie.
However, there was only one driver and he was not injured.
About 9 p.m. Wednesday, a man driving a car hauler was headed south on U.S. Highway 24-40 north of the County Road 1 intersection when his interior and exterior lights went out.
According to Lt. Andy Dedeke of the Leavenworth County Sheriff's Office, the man lost control of the vehicle on a curve and went into the east ditch. During the accident, one of the vehicles on the double-decker hauler fell off the trailer. The man was not injured and was wearing a seatbelt. Drugs and alcohol were not considered factors in the accident, Dedeke said.
"I think it really was a nothing accident that turned into a big mess," Dedeke said.
Dedeke did not have information Thursday about the man's identity. For more on the accident, check back to The Mirror's Web site.