Legislators discuss plans for coal power plant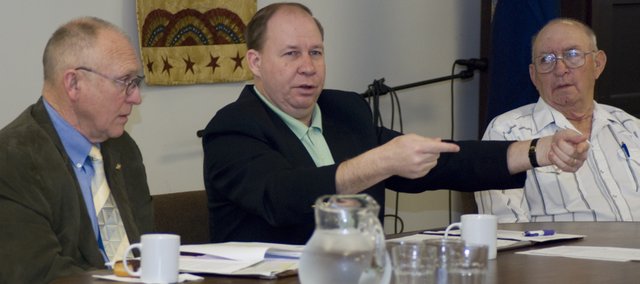 On Saturday, Kansas legislators once again paid a visit to Tonganoxie to update their constituents on what is going on at the Statehouse.
On the menu for Rep. Kenny Wilk, R-Lansing, and Rep. Roger Pine, R-Lawrence, were servings of immigration and health care with coal power plants in Holcomb as the entree.
"We talked about this last time we had a forum down here and frankly we haven't made any more progress on the whole energy issue," Wilk said to the local residents in attendance. "And that's quite disturbing to me.
"I think we are in a critical point in our state history with what we are going to do with energy. What we do or what we do not do can have a tremendous impact on your rates."
The issue of the power plants was something familiar to the more than 25 local residents who attended. When asked by Wilk if they had been paying attention to the news coverage on the power plants and if they agreed with building the coal plant just about everyone in the room raised their hands in agreement.
Wilk said it was the minority of the people who were controlling the issue. He also said it was the lack of participation from energy companies like Westar Energy and KCP&L that added to the frustration with the issue.
"They have sat on the sidelines and I've got to tell you my patience with them is out," he said about the energy companies. "Next week there might be something that occurs that they might not be very happy with. My response to them will be, 'where were you in October and November.'"
Among other things discussed at the update were recent events in the Legislature, such as the 40-0 passing of House Bill 2617, or "Amanda's law," by the Senate on Friday.
Wilk had thanked Dennis Bixby, father of Amanda Bixby - who's death last year prompted him to peruse the bill, for all of the hard work and time he had spent in Topeka to make the bill a reality.
"I figured you passed it just to get me out of there," Bixby joked.
John Flower who is running for the County Commission seat that will be left open by Dean Oroke used the time to make a plug for his campaign.
He said he wanted to honor the county the way it is today, but to recognize and plan for future growth.
The legislators also updated residents on the House Bill 2158 or the "Blue Gill Bill."
"We have a bit of a controversy with the catfish," Wilk said.
Until the issue is resolved the bill is at an impasse.