Lightning stops Bulldogs' showdown with Silver Lake
McLouth wins first game with Eagles, 10-0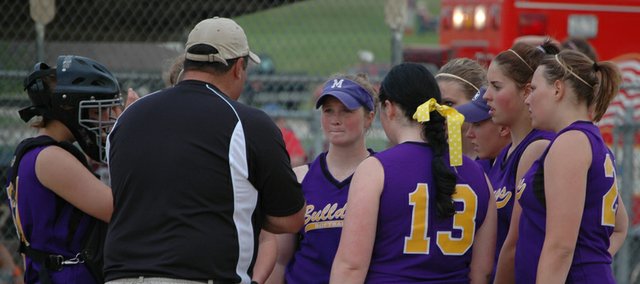 Photo Gallery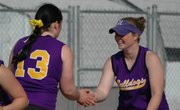 McLouth softball takes on Silver Lake
McLouth — Facing the team that knocked them out of the postseason in 2007, the McLouth High Bulldogs won one game easily in their doubleheader with Silver Lake on Thursday before a wild second game was suspended in extra innings with the score tied, 4-4.
McLouth (13-0) led the second game of the twinbill, 4-0, after three innings, but SLHS, state Class 3A runner-up last season, scored two in the fourth and two more in the sixth to tie the game. Neither team was able to score in the seventh and that trend continued into extra innings before the game was called in the top of the 10th because of nearby lightning.
Melissa Rome scored the first run of the game for MHS in the second game. She drew a walk, stole second base and scored on single to center field by freshman designated hitter Jessie Troupe.
The Bulldogs were able to score three more the following inning. Kendall Patterson doubled down the left-field line and scored when her younger sister, Kaley Patterson, drove her in with a single to left. Then Lezley Lawson drilled a line-drive, two-run homer over the left field wall to score what turned out to be the last runs of the game for MHS.
Sam Farris started at pitcher and threw five innings. She struck out six Eagles, including a stretch when she fanned five straight. Lawson relieved her and struck out five in four innings after pitching MHS to a 10-0 victory in the first contest.
In the MHS win, Lawson struck out seven in six innings of work. She also went 3-for-4 at the plate in that game with two RBI.
The Bulldogs sealed the victory with a four-run sixth inning that gave them a 10-run spread. Kendall Patterson started the inning with a single to right. Kaley Patterson then reached base when she was hit by a pitch. Lawson followed that up with a single, and Kendall Patterson scored on the play as Kaley Patterson was momentarily caught in between bases before getting back to second safely.
Rome moved the runners into scoring position with a sacrifice fly and Farris drove them in with a single to center field. Farris, who advanced to second as the Eagles attempted to throw out Lawson at the plate, scored the winning run when Deanna Durkes drove her in with a single.
Kendall Patterson was 3-for-3 with a pair of doubles in the victory. Kaley Patterson was 2-for-3 and drove in a run. Durkes, who injured her right knee while playing third base in the second game, was 2-for-3 with three RBI.