Overnight storm levels barn near rural Tonganoxie home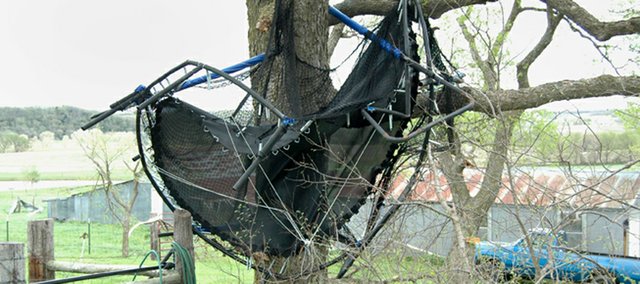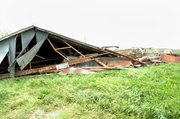 Friday morning's severe weather provided an uneasy feeling for Stephanie Maurer.
She and her family live southwest of Tonganoxie on 246th Street.
At one point during the storm, Maurer checked on a window in her daughters' bedroom.
"I put my hand on the wall," Maurer said. "It felt like the whole window was going to be sucked out. The pressure was unbelievable."
Damage to the house included some lost shingles, as well as some rain that collected in the living room. Maurer said water must have gotten in through the windows somehow.
"The windows were still intact, but it pulled the windows," Maurer said about the storm. "And water got in the house."
The storm, however, did not spare a nearby barn, which her husband, Andy Maurer, said was made of corrugated metal.
The barn, which was about 50 feet by 60 feet, was leveled. The roof was displaced just to the east of where the barn originally stood, while equipment inside the barn, remained in its place. Portions of the barn's walls, which Andy said stood about 12 feet, were strung out in pieces several feet to the east. In addition, a nearby tree was uprooted and the family's trampoline was displaced, wind leaving it tattered and twisted in another tree.
In retrospect, though, Andy was thankful. He said damage to the house was minimal and luckily no one was injured.
In the city of Tonganoxie, power was lost for an estimated two to three hours Friday morning, according to Tonganoxie City Fire Department Capt. John Callaghan, who said the power outage began about 1:30 a.m.
"About a third to half of town was without power," Callaghan said.
Mainly, Callaghan noted, firefighters dealt with electrical issues. The roof façade at Legal Printing, 1202 Front Street, had blown down and landed on that building, as well as nearby Mr. Goodcents. It pulled Legal Printing's electric meter away from the building, Callaghan said. However, he said that damage caused a power outage only at Legal Printing.
Near Seventh and Green streets, storms pulled power lines down and energized a chain-link fence.
"We baby-sat that for a couple hours before the power company could get there and disconnect it," Callaghan said.
Steve Foss, general manager of Leavenworth-Jefferson Electric Cooperative, said that up to 400 customers were without power overnight. However, by 8:30 a.m. Friday, nearly all customers' power was restored - with only five outages reported. Those customers are north of Tonganoxie in Leavenworth County.
"Overall, I'd say we came out pretty good," Foss said.
According to Westar Energy, of its 26,335 customers in Leavenworth County, 1,614 were without power as of 3 p.m. Friday. In Jefferson County, just one of 5,541 was without power. The power outage numbers are approximate totals, according to the Westar Energy Web site.
Additional damage has been reported in rural Tonganoxie, including wind damage to roofs, as well as fallen trees.