Chieftain golfers fire record low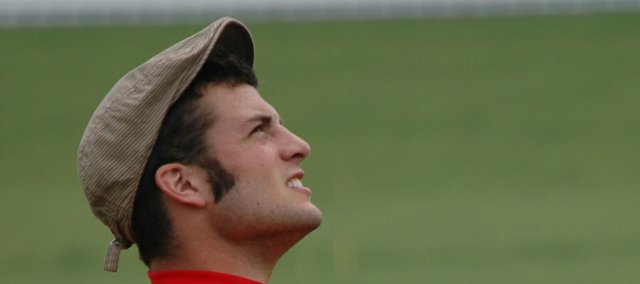 Photo Gallery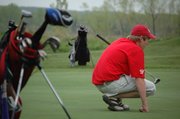 THS golfers finish third at KVL
Lawrence — It took a season's worth of diligent work, but the Tonganoxie High golf team finally saw the fruits of its endeavors on Monday when the Chieftains played host to the Kaw Valley League tournament at Eagle Bend Golf Course.
Not only did the Chieftains have their best outing of the year, but they finished third as a team in the KVL and did so by posting a THS record low score of 336.
First-year coach Jared Jackson, who has watched his players gradually shed strokes off their scores during the past several weeks, said the team was mentally prepared to succeed.
"A lot of it just starts with their mindset, how seriously they're taking the game," Jackson said, noting the team's diligent work at practice this season has led to steady improvement.
"It doesn't happen overnight. The things you do in practice don't show up right away, but if you stick with doing the right thing, you'll eventually see results."
The results were clear and present as a trio of THS golfers registered top-10 scores on an overcast day with minimal wind. Drew Scates finished eighth with an 82 and Matt Williams and Dalton Lawson were two of five players to shoot an 84, the 10th best score.
And the Chieftains' other three golfers weren't too far behind them. Mitch Deoff shot an 86, Tanner Newman finished at 88 and Justin Soetaert posted a 92.
Lawson credited Jackson's coaching and a few other factors for improved scores.
"Last year it was so hard to shoot in the 80s," he said. "I think we were finally just gifted with some (good) weather and able to play as a team."
The junior said Jackson really helped the players develop their approach game and iron play this year, which led to improved scores as the season progressed.
"Coach wouldn't let us play off the tees to begin with," Lawson said. "We always had to start 150 (yards) and out and play from there."
The Chieftains also developed a real team approach this year, Lawson added. He said if any golfer were having a problem with an aspect of his game, a teammate would help him work on it. A couple weeks into the season Lawson was hitting the ball left all the time so he and Scates went on the range after a practice and worked on the problem for a few hours until it was fixed.
Williams said the team has abandoned any me-first thought patterns during competition because the players know they are all working together.
"You want to play to your best abilities because you don't want to let down your teammates, who will play to the best of their abilities," the senior said.
Scates said the extra work THS golfers have put in, especially practicing at Eagle Bend, made a third-place finish possible.
"Everyone's really just started to come around," he said.
The senior said the league tournament couldn't have gone much better for him.
"It was awesome," Scates said of finishing in the top 10. "I've actually never done so well in a varsity tournament."
The players hope they can carry the positive momentum into next week for a boost at the regional event, but Jackson said that will be another challenge because THS might be in the toughest Class 4A regional field when they tee off at Bellevue Country Club in Atchison on Monday.
Team results
1. Lansing, 321; 2. Basehor-Linwood, 333; 3. Tonganoxie, 336; 4. Mill Valley, 343; 5. Perry-Lecompton, 347; tie-6. Bonner Springs, 359; tie-6. Santa Fe Trail, 359; 8. Bishop Ward, 377; 9. Piper, 423.