Crystal delicious: Teacher awarded by local station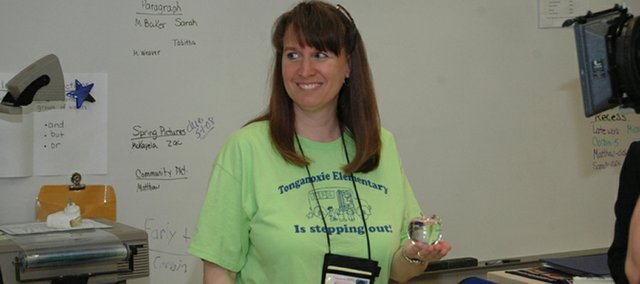 Keeping Tonganoxie Elementary School teacher Karen Stockman out of the loop on a major surprise turned out to be a major task.
TES principal Tammie George had learned from Fox 4 television representatives that Stockman was selected as their first Crystal Apple award winner for 2008.
Representatives from the Kansas City television station came Friday morning to present the award.
George wanted the presentation to be a surprise, so she told few people about the event. On Friday morning, Stockman's two children, who both attend Tonganoxie High School, were asked to attend, as well as Stockman's mother, Carolyn Day, who works in the music department at THS.
There was a slight problem, though. Karen's daughter, Ashley, received a call about being excused from class to come to the elementary school.
The other problem? Her son, Ryan, is a senior at THS. And Friday was senior skip day, so Karen instantly thought it was some sort of prank and gave instructions to high school staff to not allow her daughter out of class.
She then called Ryan asking him what was going on. Ryan, though, was staying at a friend's house, and he knew nothing about the situation. After a motherly speech, Karen hung up the phone. Ryan later received word about what truly was going on.
Eventually, both of Karen's children and her mother arrived at the elementary school office, as well as Tammy Thompson, who wrote the nomination letter to Fox 4, and her son, Paul, who was one of Karen's students last year.
Tammy Thompson's daughter, Tabitha, currently is one of Karen's students, so an excuse was made up for her to be dismissed from class and join the surprise brigade.
George also told Stockman she wanted a photo of the teacher with her students and their award-winning book, "K is For Kansas," before the group went on a field trip later that day. Of course, that was another excuse to keep Stockman and her class delayed.
While, as Day put it, the "comedy of errors" continued to unfold, Fox 4 officials were running behind schedule because of unforeseen road closings. TES staff offered alternate routes, and finally, the crew arrived.
It was time for the surprise patrol to finally provide the big news. When the Fox 4 crew walked into her room, Stockman definitely was taken aback.
"Oh my goodness, I was totally shocked," Stockman said.
Tammy Thompson said she saw a television piece about nominating a teacher for the award.
Paul told her she should write a letter nominating Stockman, noting that Stockman instilled in him "that I make a difference."
Both children of Tammy and her husband Warren have attention deficit hyperactivity disorder, she said. Paul had trouble with reading, as he was at a first-grade reading level when he started the class. Stockman worked with him in that area, Tammy said.
"She just totally got that child motivated," Tammy said. "And by the time he got out of third grade he was on a fourth-grade level right were he should be."
Tabitha, meanwhile, has a hearing problem that requires surgery. Stockman configured her classroom so that Tabitha could be near her desk. Tabitha also is smaller than other students and was shy.
After being in Stockman's class this year, Tammy said her daughter has come out of her shell, and Stockman has taught Tabitha that "being small is OK."
The TES teacher said she was appreciative of the Thompson family's nomination.
"It's really nice when you have a parent and children in your class who think highly of you and nominate you," Stockman said. "You work hard and try to make a difference.
"I'm so touched. It really touched my heart. I can't put into words how special that made me feel. I really do appreciate it."
When the class returned from the field trip, they received another surprise - a letter from President Bush. The class had done a project in which they sent letters to the president and all the presidential candidates this election year.
"To have that in the morning and come back in the afternoon and a letter from the president, that's not a bad day all in all," Stockman said.
As part of her award, Stockman also received vouchers for two roundtrip tickets from Southwest Airlines.
Segments about the TES teacher winning the award will air during today's Fox 4 morning news.