Hey, Bulldogs! McLouth unblemished
MHS

17-0 entering postseason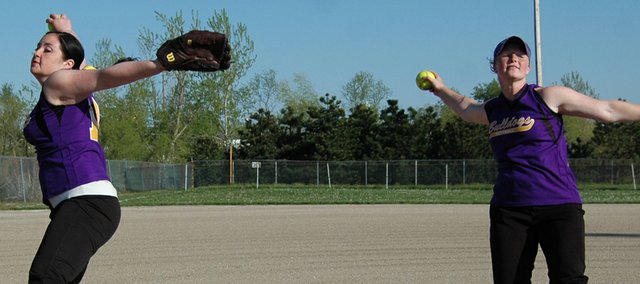 McLouth — Forgive the McLouth High Bulldogs if revenge was on their minds when they took the field on Thursday.
The MHS softball team was facing Silver Lake, which beat the then-undefeated Bulldogs in a Class 3A regional championship game last season. Before the rematch MHS coach Ballard Patterson instructed his players to close their eyes and remember how that loss felt.
MHS, once again unbeaten when the Eagles came to town, took that feeling and ran with it. They beat the perennial power 10-0 in the first game of the doubleheader, and it looked like nothing would stop McLouth from rolling again in the second game.
MHS led by four after three innings, but SLHS battled back, tying the score and forcing extras. The game had the makings of a classic, but lightning in the area forced the game to be suspended in the top of the 10th inning, halting the Bulldogs' hopes of fully avenging last season's loss and leaving MHS players feeling as though they had unfinished business with the Eagles.
"We were so pumped to finish it," said pitcher Sam Farris, who started the unresolved contest. "It was a bummer."
Junior hurler Lezley "Lulu" Lawson, who struck out seven in the first game and five more in relief of Farris in the second game, said the ending was disappointing because everybody had exerted so much effort offensively and defensively.
"There was all this battling," Lawson said, "and we were still left with the 'What if?'"
That question is the first real disappointment for the team to date. MHS improved to 17-0 on Tuesday with a sweep of Valley Falls and has outscored its opponents, 215-14, on the season.
In fact, the Bulldogs' only real scares so far both came last week as they faced the top two opponents on their schedule - Holton and Silver Lake - in a three-day span. The twinbill with Holton was similar to the one with SLHS as MHS won 10-0 and then had a close contest in a 3-2 victory. Patterson said the similarities might be the result of a trend he has noticed among Bulldog opponents.
"People are trying to pitch their better pitcher against Sam. I think that everyone feels like the Lulu matchup just isn't going to work for them, regardless of who they throw," Patterson opined. "What they really don't realize is that there's not a whole lot of difference."
Therein lies the beauty of having two dominant pitchers, Farris said, who can trust each other.
"It's nice to have a partner," she said. "It's very comforting."
Lawson agreed, and said the MHS defense is just as critical to the team's success.
"It's actually a big relief when you're on the mound," Lawson said of the solid defense, led by catcher Kendall Patterson and infielder Melissa Rome. "Even if you don't hit well, you still have good defense to make it OK."
Fortunately for the Bulldogs, hitting is rarely problematic. One-two hitters and sisters Kendall and Kaley Patterson consistently get on base, Lawson and Rome have been pounding the ball, and players such as Courtney and Stacie Stauch, Jessie Troupe, Deanna Durkes and Abby Annis have made the lineup lethal from top to bottom.
The offense has been so dominant that MHS had beaten every team on its schedule by 10 runs or more before last week. But Patterson thought the recent tough games would prove beneficial.
"The worst thing that could happen to us is to continue to run-spread everybody along the way," the coach said. "That wasn't going to do us any good at all."
McLouth players agreed, knowing that once they get to the postseason, which begins with regional matchups next week, opponents will be tougher and ready to fight back. Farris said close games with Holton and Silver Lake were good for the team.
"It wakes us up and makes us realize that there are still good teams out there," she said.
After finishing the season 20-1 and falling a game win shy of a second consecutive state trip last year, Lawson said the team is wiser this year. They entered the 2007 postseason undefeated and just assumed they would get to state. Lawson said the team won't make the same mistake this time around.
"It's one game at a time. It's one inning at a time," she said of the 2008 team's philosophy. "That's ultimately going to make our postseason better."
The Bulldogs won't consider it a successful postseason unless they go to state and play well. And if they do that, their coach said, they may finally get complete redemption for last season's ending and finish what they started against Silver Lake on Thursday.
"Hopefully the next time we see them," Patterson said of the Eagles, "it's in the state championship game."