Liquor sales for specific holidays approved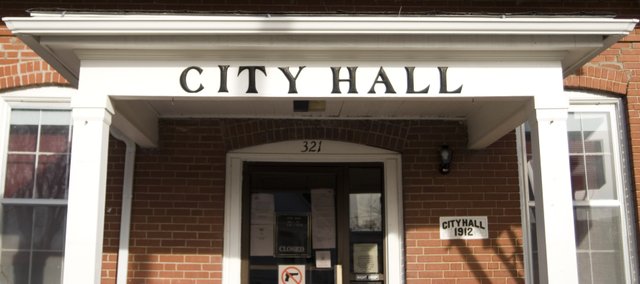 Another battle over retail liquor sales in Tonganoxie was fought at Monday night's city council meeting. The main event was once again retail liquor sales.
In one corner Mary Krouse and other local liquor retailers came to the council asking to adopt an ordinance that would allow them to sell liquor on Memorial Day, Labor Day and Independence Day.
In the other corner, Dennis Bixby, who has often come to council meetings to discuss the negative effects and potential costs associated with alcohol.
But after a 25-minute verbal bout among all parties including the council, the liquor retailers were victorious with a 3-2 vote in favor of passing the ordinance.
"I'm just pleased that part of the council understands what we are up against and is willing to support us," Krouse said Tuesday. "It's an upward battle I swear."
Krouse and the other retail liquor store owners argued that the three federal holidays in question fall on weekdays this year: Memorial Day, May 26, falls on a Monday; Independence Day, July 4, falls on a Friday and Labor Day, Sept. 1, falls on a Monday. The current ordinance would not allow liquor retailers to sell their goods on those days they would normally operate and on some of the biggest days for liquor sales.
"We are just asking for us to have the opportunity that all of the liquor salesmen in the surrounding cities have to be able to sell alcohol on these holidays," Krouse said Monday. "They are not religiously observed holidays and they are not on Sundays. But if you take Independence Day, which is on a Friday, you are taking one-sixth of our business and our second major holiday for sales."
Council member Jason Ward, who made the motion to pass the ordinance, agreed and recalled a time when he worked at a liquor retailer when he was in school.
"Being closed on holidays killed their business," Ward said. "They worked hard. There were people that were proprietors of that establishment that did not make good decisions with alcohol and then there were people that bought a bottle of wine. It runs the gamut of people that make good decisions and bad decisions. I don't feel like I am in the position to be the one to tell them that they can't make that decision and I don't want my personal beliefs to infringe on the business owners of the community."
Council member Paula Crook also echoed Ward's sentiments on not letting her personal beliefs on alcohol affect local businesses.
On the other side of the issue Council members Jim Truesdell and Tom Putthoff said that the option to force the issue of Sunday and holiday liquor sales has always been available to the interested parties and it shouldn't be up to the council to decide.
"We've discussed this before and it was brought up that we would only deal with this again if a petition was signed and brought to us," Putthoff said. "I don't believe a petition was brought to us."
In previous meetings Truesdell has said that alcohol cost the community too much and it was a common sense issue and its sale should be discouraged.
"I don't think there is any secret on how I feel about this. I don't want it," Bixby said. "It seems that every time this issue comes up it's always been an issue and the reason for the petition was because it has always been the burden of the people who are against the change to come up with a petition. I thought that if there was a change to consider it was going to be done at the expense and the work of the pro holiday sales."
On Tuesday, Bixby said that he was disappointed with the vote and feels that nothing good would come out of the vote. And although he will probably not start a petition to put the ordinance to a general election, he believes that someone in the community will.
The fight for retail sales of liquor on Sundays and on other major holidays has had a long history in Tonganoxie. Recently, the council took no action to change the ordinance to allow Sunday liquor sales during an August council meeting, and an attempt to put the issue to a vote during January's election also failed.