TMS

celebrates test scores with a day full of fun for both students and staff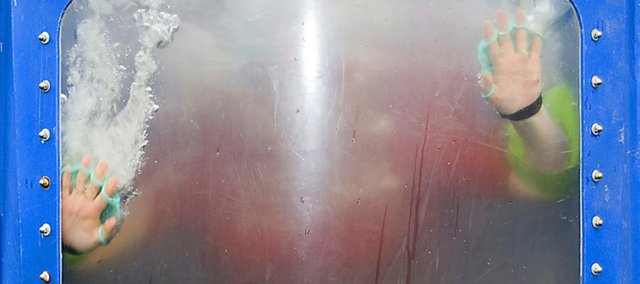 Stepping up to the line, sixth-grader Brett Bolon prepared himself to be the first one to dunk Tonganoxie Middle School Principal Jill Dickerson in the tank. Not only would he earn the bragging rights, but sixth grade teacher Janet Burnett also promised $5 to the first student to do so.
He lined up his shot and threw the softball. He was soon rewarded with the sound of leather hitting the metal target and the sight of Dickerson, who was dressed in mermaid-like aquatic swimwear, taking her first plunge into the drink.
Photo Gallery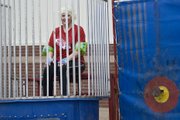 TMS Tank
Tonganoxie Middle School principal Jill Dickerson gets dunked.
"It was awesome," Bolon said. "As soon as I heard Mrs. Burnett say she was going to give up five bucks it made me try even harder. I mean did you see her outfit? Honestly."
Dickerson agreed to be dunked after getting the preliminary test results from the Kansas Assessment Test showing a marked improvement throughout the middle school.
Compared to last year, the number of TMS students that were considered proficient or above in reading jumped 15 percentage points in 2008. The numbers were similar for math scores with a 10.9 percentage point increase to 80.4 percent.
"They have exceeded all of my expectations," Dickerson, who took over the middle school after Steve Woolf resigned last year, said. "To see them feel good about what they've accomplished makes all of the planning and all of the work on the teachers' part worth it."
To celebrate the accomplishment the school had a party, which included 1,200 hot dogs, inflatable obstacle courses, a trampoline bungee ride and of course a dunk tank.
"Not only are the students good at math and reading, but they can sure throw a softball too," Dickerson said.
The school will not receive the final test numbers until later this year.