'

Track girl' Weller running toward future at

ESU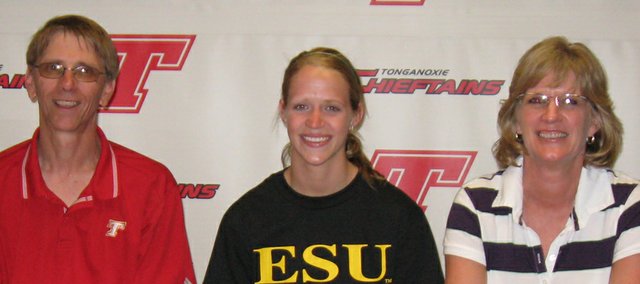 When her senior year at Tonganoxie High began, Christy Weller was a little stressed about her future.
She knew she wanted to run track, as she does for the Chieftains, once she got to college, but where?
"I hated not knowing what I was going to do," Weller said. "It was stressful just having to make the decision, but it wasn't really hard because I was only choosing between two schools."
For Weller, it came down to Emporia State and Pittsburg State, and in order to avoid running with indecision and a gorilla on her back all year, Weller decided back in November to become a Hornet and run collegiately at ESU.
That decision became official on Thursday at THS when Weller, with parents, coaches, teammates and some close friends by her side, signed with Emporia State.
With the decision in her rear-view mirror, Weller has enjoyed a successful senior season for the Chieftains, consistently helping the girls team score points in running and relay events. When asked to reflect on why she chose ESU instead of PSU, Weller said it was her campus visit that made the difference because she felt comfortable with the athletes she met in Emporia.
"I went and visited both and I just really liked the girls on the Emporia team," Weller said.
She didn't know anybody at ESU before she got there, but it didn't take long for the people she met to win her over. She told them that other schools wanted her to run for both the track and cross country teams, just as she had done at THS.
"Whenever I met the girls at Emporia, the first thing they said was, 'Cross country, what? You're such a track girl.' And so that made me really want to go there," Weller recalled.
She will be able to concentrate solely on track once she gets to ESU, where Weller is hoping to compete in the same events that she has this year as a prep for Tonganoxie. One of her specialties is the 800-meter run, and she said ESU coaches told her there likely would be a need for her to compete in that event once she gets to college.
Weller might also run in the 400-meter dash and she indicated that ESU coaches are thinking about her more as a medium-distance runner, "Which made me excited," she said with a laugh, indicating she would like to avoid running in long-distance events. She also should have an opportunity to compete for a spot on a relay team, which would be familiar territory for the runner who has been a staple on the THS 4x400 squad.
With THS girls coach Chris Weller, Christy's father, there to watch her symbolically take the next step in her track career along with boys coach Phil Williams, assistant Bill Shaw, a handful of Chieftain track athletes and others, Weller was glad to share that moment with the people who helped her get to that point.
"It made me happy," she said of the special, stress-free day. "Everyone supported me and cared enough to come."