Chieftains capture seven league titles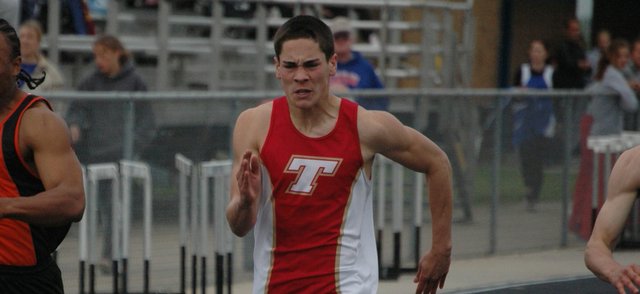 Photo Gallery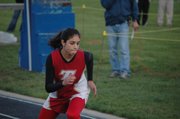 THS at Kaw Valley League Meet
Carbondale — The Tonganoxie High track teams started the postseason with a bang at Santa Fe Trail last Wednesday as the Chieftains girls and boys finished in the top three at the Kaw Valley League meet.
The girls finished second behind league champ Mill Valley, which also won the boys team title. Bonner Springs was the boys runner-up and THS was just behind at third.
While the Chieftains didn't bring home a team title, THS athletes won league championships in seven events.
In a thrilling neck-and-neck 800-meter run, Christy Weller won a league title by less than four-tenths of a second.
Weller was also part of the 4x800 relay champions as she teamed with Andie Jeannin, Katie Chenoweth and Megan Puhr to finish in 10:18.16.
Grizzles swept the girls throwing championships as junior Roni Grizzle was a league champion twice over, winning the shot put and discus, and senior Roxi Grizzle won the first league title of her decorated prep career as a javelin thrower.
The youngest Grizzle sister, freshman Dominique, finished third in the shot put behind her two older sisters as the family dominated that event.
Jeremy Carlisle continued his impressive freshman campaign with a league title in the 800-meter run, and later Carlisle helped the Chieftains end the evening on a great note as he teamed with Austin Stone, Bret Koch and D.J. Lindsay to win the 4x400 relay, the last event of the evening, with a time of 3:29.93, which gives Tonganoxie the best time in Class 4A.
Senior Tracie Hileman was painfully close to a league title, finishing second in the triple jump, high jump, long jump and 100-meter hurdles. Her performance, according to girls coach Chris Weller, made her the all-time career points leader for the THS girls.
The THS postseason will continue on Friday when the Chieftains travel to Wamego for a Class 4A regional meet, which will determine which athletes get to compete at state May 23-24 in Wichita. Regional field events begin at 3:30 p.m. and track prelims begin at 5 p.m.
Girls Team Standings, Points
1. Mill Valley - 175
2. Tonganoxie - 153
3. Piper - 83
4. Santa Fe Trail - 67
5. Perry-Lecompton - 48
6. Lansing - 46
7. Bishop Ward - 20
8. Bonner Springs - 12
Boys Team Standings, Points
1. Mill Valley - 142
2. Bonner Springs - 129
3. Tonganoxie - 95
4. Lansing - 78
5. Santa Fe Trail - 48.5
6. Perry-Lecompton - 45
7. Piper - 32
8. Basehor-Linwood - 28.5
9. Bishop Ward - 11
Tonganoxie Girls Results
400-meter - 3. Christina Rubio, 1:03.79
800-meter - 1. Christy Weller, 2:24.70; 3. Andie Jeannin, 2:28.91
1,600-meter - 7. Lauren Hall, 6:21.02
100-meter hurdles - 2. Tracie Hileman, 16.73; 6. Abby Eisman, 17.62
300-meter hurdles - 3. Abby Eisman, 51.21; 6. Dannie Oelschlaeger, 54.98
4x400 relay - 2. Andie Jeannin, Megan Puhr, Christina Rubio, Christy Weller, 4:11.41
4x800 relay - 1. Andie Jeannin, Katie Chenoweth, Megan Puhr, Christy Weller, 10:18.16
High jump - 2. Tracie Hileman, 4-10
Pole vault - 3. Abby Eisman, 8-0; 5. Dannie Oelschlaeger, 7-0
Long jump - 2. Tracie Hileman, 16-2.25
Triple jump - 2. Tracie Hileman, 34-3
Shot put - 1. Roni Grizzle, 41-6; 2. Roxi Grizzle, 34-9; 3. Dominique Grizzle, 33-4
Discus - 1. Roni Grizzle, 113-0; 4. Elise Drennan, 96-11.5
Javelin - 1. Roxi Grizzle, 142-11; 2. Chrissie Jeannin, 128-9; 3. Roni Grizzle, 127-3
Tonganoxie Boys Results
100-meter - 4. D.J. Lindsay, 11.51
200-meter - 4. D.J. Lindsay, 24.08
400-meter - 5. Austin Stone, 54.31
800-meter - 1. Jeremy Carlisle, 2:01.81
4x100 relay - 3. Bret Koch, Jason Espeland, Jeremy Carlisle, D.J. Lindsay, 45.7
4x400 relay - 1. Austin Stone, Bret Koch, D.J. Lindsay, Jeremy Carlisle, 3:29.93
4x800 relay - 2. Patrick Holton, Tommy Heskett, David Powell, Jeremy Carlisle, 8:59.4
High jump - 3. Kendrick Whittington, 5-10; 4. Austin Smith, 5-8
Pole vault - 3. Jake Willis, 10-0; 5. Blaize Oelschlaeger, 10-0; 6. Ian McClellan, 10-0
Long jump - 4. Kendrick Whittington, 19-9.75
Triple jump - 4. Dylan Scates, 39-10.5
Shot put - 6. Chance Rawlins, 41-10
Discus - 2. Tyler Gurss, 135-10
Javelin - 2. Gabe Belobrajdic, 169-6; 5. Reece Hollingsworth, 140-1; 7. Shawn Roberts, 139-9