Chieftains win regular season finale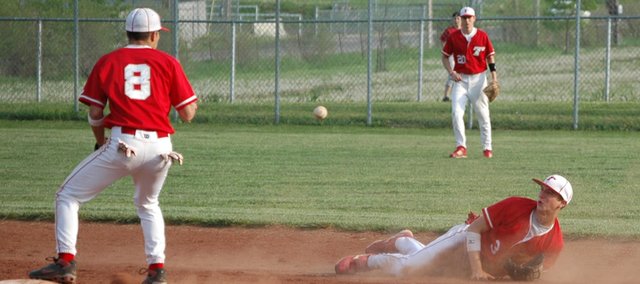 Tonganoxie High responded to a Mill Valley sixth-inning rally with one of its own to get an 8-5 Senior Night win on Thursday evening at Leavenworth County Fairgrounds.
The Chieftains led 5-3 after five innings before the Jaguars, who had won six of their previous eight contests, evened the score in the top of the sixth. Bennett Ratzloff scored the first run of the inning on a J. J. Grovenburg single and John Theis scored the tying run when Andy See hit a sacrifice fly to center field.
But THS (12-8) responded with three runs in the bottom of the inning. Ethan Lorrance started things with an infield single and Rob Schlicht reached base when MVHS (9-10) pitcher Ben Hartman fielded a Schlicht grounder and tried to get the force at second. His throw got into the outfield and Lorrance and Schlicht advanced to scoring position. Blaize Oelschlaeger then plated both runners with a double. Logan Forbis later drove in Oelschlaeger with a single to center field.
THS coach Phil Loomis said the players were disappointed in surrendering the lead and responded appropriately.
"They came out pretty determined, which was a big step for us," Loomis said.
Three was the magic number for Oelschlaeger, who went 3-for-3 in the victory, scored three times and drove in three more. Lorrance was 2-for-3. The two had half of the Chieftains' 10 hits.
Loomis, happy with his team's play in the regular season finale, said his players have taken on a new attitude this year and found confidence.
"They are feeling good about themselves. The last couple of years they've been happy to win a game, but they want to do something (more this year). They're looking not just at this week (regionals), but they're looking to play all the way to the 24th (of May, which would mean a trip to state)," Loomis said, noting that the team's confidence has grown throughout the season. "Now, all of the sudden, they're thinking we have a chance."
The positive postseason thinking was evident when Forbis, a regular starting pitcher, came in to pitch the top of the seventh to secure the victory. Loomis said the Chieftains wanted to have as many wins as possible for seeding purposes at state, should they advance through their region.
The postseason begins on Monday at 6 p.m. when THS plays host to Atchison. Jace Waters, who threw three innings of relief on Thursday, is the probable starter for the first THS regional contest. Should the Chieftains advance, they would play the winner of Holton and Perry-Lecompton at Jeff West on Tuesday. The winner of that game then plays again that night with a trip to state on the line.