Council holds off on
CR1

pledge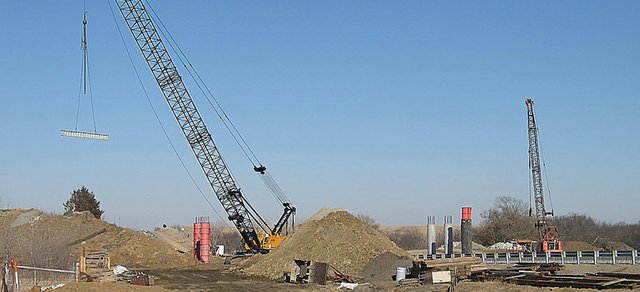 Just as a dollar amount to help fund the improvements along Leavenworth County Road 1 was finally discussed, the Tonganoxie City Council decided to wait another week before committing to the project.
"I don't want to jump too soon," Tom Putthoff, city council member, said. "I don't want to say, 'no' and then two weeks later think that I should have said, 'yes.' I want to make this decision right."
Council president Jason Ward gave some initial comments, saying he thought a contribution of $1.5 million to the project would put the city in good standing at the negotiation table with the county.
One million dollars would be paid in $100,000 increments during the next 10 years and would come from the city's portion of the 1 percent county sales tax revenue. The remainder would be paid out of revenues from development fees that would come from any new commercial or residential development along the road.
The decision for the delay was to see exactly how much the project was going to cost. The amount the city discussed is based off 15 percent of a $10 million dollar project. On Tuesday, Leavenworth County Commissioner Clyde Graeber attended the project bid openings at the Kansas Turnpike Authority in Topeka.
Rex Fleming, chief engineer for the interchange project with KTA said Tuesday that bids ranged from $16.7 million to $25 million for the entire project, which includes the interchange with Interstate 70.
"Basically we had five good contractors that bid," Fleming said. "The low bid was below the engineering estimate, which is a good sign."
Total construction costs will need to be broken down by KTA's portion and the county's portion before a bid is approved, he added.
No matter what the final bid numbers turn out to be, Ward pushed to have Tonganoxie included in the project at Monday's meeting.
"To us it doesn't mater if it's $10 million or a $15 million. What matters is that we participate and we gain something from this project," Ward said.
Tonganoxie Mayor Mike Vestal said the council would make its decision at next Monday's council meeting after reviewing the bids.
Mike Kelly, the city attorney, warned that the city would probably have less than a month to decide based on conversations he's had with David Van Parys, the Leavenworth County counselor.