McLouth softball headed to state
Bulldogs defeat Wellsville, 7-1, in regional championship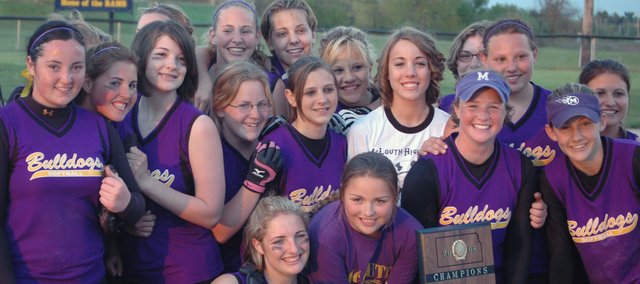 Photo Gallery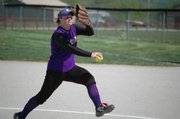 McLouth softball headed to state
Easton — All year long the McLouth High softball team had talked about getting to state and the Bulldogs finally accomplished that goal on Wednesday by defeating Wellsville, 7-1, in a Class 3A regional championship game at Pleasant Ridge High School.
The Bulldogs, now 19-0, scored six runs in the bottom of the third and starting pitcher Lezley Lawson dominated the Eagles, striking out 17.
The crucial six-run third got started with the bottom of the MHS lineup as No. 8 hitter Courtney Stauch singled and No. 9 batter Stacie Stauch drew a walk. Then the top of the McLouth lineup came up and made WHS pay.
Kendall Patterson got her first hit of the day with an RBI-double to left field that opened the floodgates. Kaley Patterson then reached on a fielder's choice when she grounded to short and WHS unsuccessfully tried to throw out Stacie Stauch at home and made matters worse by throwing the ball away in an attempt to throw out Kaley Patterson, who was advancing to second base. That botched throw allowed Kendall Patterson to score, which gave MHS a 4-1 lead.
The surge continued as Lawson singled and Melissa Rome stepped up with a two-run triple to left field. Rome then scored what proved to be McLouth's final run when Deanna Durkes drove her in with a single to left.
No more scoring was necessary, though, as Lawson mowed through the Eagles' lineup. The junior struck out six straight batters during a span from the first through third innings and ended the game by striking out five straight.
Earlier in the day, MHS defeated Pleasant Ridge, 10-0, in a regional semifinal to advance to the championship game.
The Bulldogs jumped out early with a four-run first and all four runs came with one swing of Durkes' bat.
The MHS third baseman, in her first at bat since an injury forced her to miss the last four games of the regular season, blasted a grand slam over the left-field wall.
Sam Farris pitched a shutout for MHS in the semifinal, and struck out six PRHS batters in five innings.
MHS received a two seed for the Class 3A state tournament, which begins Friday at Twin Oaks Complex in Manhattan. McLouth will take on Herington/White City (14-9) at 5 p.m. on field B. The winner of that game plays either No. 3 Thomas More Prep (21-1) or No. 6 Silver Lake (15-6) on Saturday at 10 a.m. MHS defeated Silver Lake in the first game of a twinbill this season before the second was called because of lightning in extra innings.
Wichita Independent (23-0) is the one seed in the tournament.