Medieval day better than a worksheet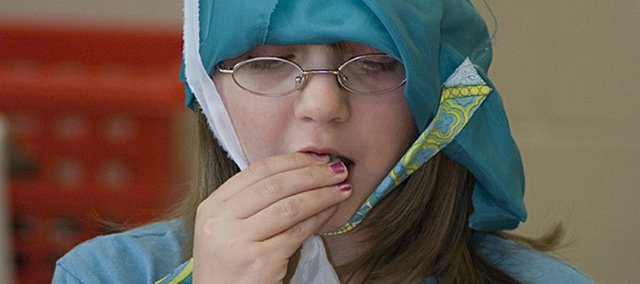 The hallways of the Tonganoxie Middle School were filled with the lords and ladies of the sixth grade class.
As part of their history section on the medieval ages, the teachers took the kids back to the 15th Century and transformed the sixth-grade wing into a medieval court.
"It gives them an authentic experience.," said Janet Burnett. "They will remember this a lot better than a worksheet."
The sixth graders were able to eat period-specific food, comfort themselves with medieval manners, learn about the period artwork and even create shields and headwear for themselves.
On the menu for the sixth-graders were a wild rice and barley soup, rice pudding and a piece of bread.
While it may sound appetizing, Tammy Lees made sure to stay as close to a period recipe as possible. That meant no extra flavorings from spices like salt, sugar and pepper. Back then, those spices would have only been available to the wealthy.
Michael Bush was in charge of teaching the students about heraldry as they designed their own medieval shields. He showed students about common patterns used in shield making like dividing the shield into thirds or quadrants and then let them be creative. The only thing that was required was to include the symbol defining the student's birth order in their family.
Burnett and Laurie Bottenfield took care of the art. Burnett was in charge of illuminated letters and Bottenfield had replica brass engravings for brass rubbings. Bottenfield said she thought it would be a good idea for the students to do this after she took a trip to England and saw the real brass engravings.
Across the hall Karen Sivits and Shelly Hunter helped the students make the cone-shaped henin hats for the ladies and armored helmets for the lords.