Pomp up the jam: Graduation approaches
Commencement exercises planned for Tonganoxie, McLouth and Basehor-Linwood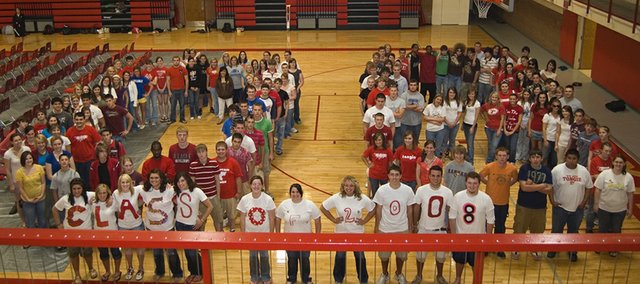 Tonganoxie High School seniors will be recognized on two occasions for their academic accomplishments.
Saturday's traditional graduation exercises will take place at 7 p.m. at the school's football stadium, Beatty Field.
In previous years, the local scholarships and other academic achievements were handed out at graduation as well.
However, this year, a new tradition - Senior Awards Night - begins. The event will be held at 7 p.m. Thursday at the Tonganoxie Performing Arts Center at the THS east campus.
Assistant principal Brent Smith said school officials discussed the change with local scholarship providers, who have presented the scholarships to seniors at graduation.
Smith said the majority of presenters favored the move. He noted that Senior Award Night offers a more formal setting and "the fact graduation becomes rather lengthy" played a role in the change.
"It makes it a special night for those scholarship winners," Smith said. Several other awards will be announced at the event, and those attending graduation still will be able to hear the announcement of scholarships and awards.
At graduation, a whopping 149 THS seniors will be receiving their diplomas. That's a bit of a jump from last year's 113 graduates and is one of the largest classes - if not the largest - in school history.
"That is probably the largest that I can remember," said Smith, whose been at THS for eight years. "I think we've had up to 130 before but never this many."
Senior class president Ashlee Lohman will give the welcome address. The senior ensemble, as well as Chieftain Singers, each will sing a song, while THS principal Jamie Carlisle will present a few awards and have special presentations.
In addition, salutatorian and valedictorian achievements will be announced, as will National Honor Society members and 4.0 grade-point average achievers.
Smith said it's possible THS will have more than one salutatorian and valedictorian. For valedictorian, two students scored a 35 on their ACTs, which normally is the tiebreaker. A 36 is the highest possible ACT score.
The ceremony will conclude with the presentation of the class and awarding of diplomas.
Baccalaureate will be at 2:30 p.m. Saturday at the performing arts center.
McLouth High School
Senior class president Cassidie Kramer will deliver the welcome at Saturday's McLouth High School commencement exercises.
The graduation will begin at 11 a.m. Saturday at Stan Braksick Sports Complex, with 46 seniors set to graduate.
Other activities at graduation will include a poetry reading, as well as speeches from co-valedictorians. Kramer is a co-valedictorian, as is Martin Lucas.
According to senior class co-sponsor Karen Bailey, graduation will proceed with the recognition of honor students and the presentation of local scholarships. Superintendent Jean Rush will speak to the seniors before diplomas are presented to the graduates.
Baccalaureate was held Friday at McLouth Nazarene Church. Pastor David Showalter prepared the program and spoke.
Also, at 10 a.m. Friday, seniors will have a rehearsal for Saturday's graduation. Senior parents will prepare lunch for their children afterwards at McLouth Methodist Church.
Basehor-Linwood High School
There will be 147 graduates walking across the stage tonight including 139 Basehor-Linwood High School students and eight Basehor-Linwood Virtual School students.
The BLHS Commencement ceremony will begin at 7:30 p.m. tonight in the large gymnasium with the soon-to-be graduates entering to the traditional "Pomp and Circumstance" performed by the BLHS band.
After the National Anthem, principal Sherry Reeves will address the graduates before the valedictorians deliver their speeches to the class of 2008. Reeves said the number of valedictorians has not yet been determined, but she expects there to be multiple students receiving the title as in past years.
The BLHS choir will then perform a piece called "The Good" from the musical Wicked followed by a performance from the band entitled "Salvation is Created."
One well-rounded student that has displayed leadership skills and participates in community service activities will be announced as the recipient of the $10,000 Faye Carney Gehl Scholarship before Basehor-Linwood school board president Randy Cunningham, along with the rest of the board members, present the diplomas.
The students will exit to "Stars and Stripes Forever" performed by the band and will then head off to celebrate their accomplishments in a drug and alcohol-free environment for Project Grad at Power Play Entertainment in Shawnee.