THS

students lend hands for service day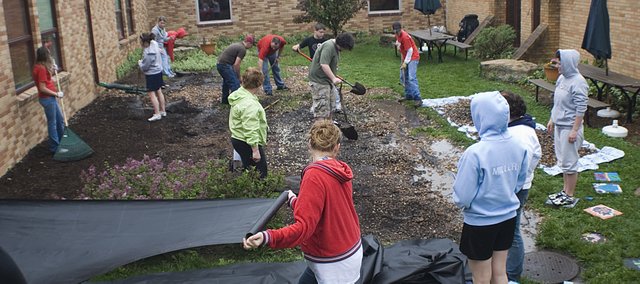 Mark Mall directed his team of Tonganoxie High School students as they unloaded mulch from the stockpile just north of VFW Park to the nearby flowerbeds.
For more than two hours the THS math and computer teacher's handpicked team tirelessly worked in the cool, wet weather spreading a steaming pile of mulch to assist the Leavenworth County Master Gardeners.
Photo Gallery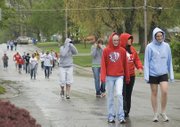 THS Community Service Day
By the end, the group was tired and out of breath, but group members' hard work was appreciated by all who were there.
"If we had to do this ourselves it would have taken us a year," said Tom Flynn with the master gardeners.
Mall's team wasn't alone. Almost the entire student body of Tonganoxie High School ventured into the rain Friday to participate in the first annual Community Service Day.
THS teachers took their teams to different locations around Tonganoxie, including private residences, the Leavenworth County Fairgrounds and the other Tonganoxie schools, with the sole purpose of helping out wherever they could.
"Our kids are awesome and that's the bottom line," said Jamie Carlisle, THS principal. "They are such hard workers. If you give kids an opportunity to serve you will be absolutely amazed at what they can accomplish."
Donning hooded sweatshirts, working gloves and carrying tools, the students set out around town. At the middle school the students helped with some of the outdoor gardening and helped the sixth graders during their medieval day project. At the elementary school the students did everything from helping with children to working in the outdoor classroom and carrying supplies around.
Students at the Tonganoxie Chamber of Commerce pulled weeds and washed windows. They would have scraped and repainted the chamber's sign, but the rain prevented them from doing that.
And at Winny Turner's house, students, picked up trash in the yard, cleaned window blinds, put groceries away and hung curtains.
"I think it's wonderful," Turner said. "It is a very nice gesture and I appreciate it very much."
As a reward, the elderly resident gave the students who helped around the house some ice cream.
To keep the day running as smoothly as possible, Pam Arevalo, who came up with the event, spent the morning coordinating all of the student groups. The morning rain delayed the students from leaving on time, which meant transportation wasn't all there.
She said that the day was a little bit chaotic from her end, but having the handpicked teams did help some things on her end.
"The team system worked well," Arevalo said. "Some were apprehensive about being on teams, but when you all have a common goal in mind it works."