THS

softball loses regional championship in extras
Tonganoxie defeats Baldwin in regional softball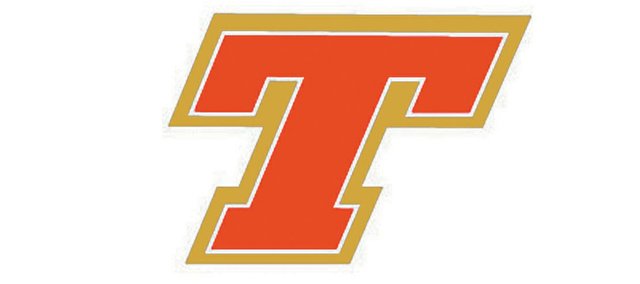 Eudora — Just hours after going extra innings and edging Baldwin in a regional semifinal, Tonganoxie High found itself in extras again during its championship showdown with Santa Fe Trail.
The Chieftains had the bases loaded in the ninth with one out but couldn't find the tying run they needed and fell, 6-5, one win shy of the Class 4A state tournament.
With the potential tying run on third and the would-be go-ahead run on second, two of Tonganoxie's best hitters, Sarah Flaherty and Melissa Pratt, each flew out.
The Chieftains (10-12) did well just to force extras. They were down 5-4 entering the bottom of the seventh. But Lauren Himpel was able to score on a passed ball with two outs to extend the championship contest.
THS coach Diane Titterington called the loss a "heartbreaker," and said the team "played with some heart and showed a lot of character," adding that she really wanted that win for the THS seniors.
A battle for a spot in the Class 4A regional softball championship came down to extra innings earlier Wednesday.
Baldwin High School and Tonganoxie squared off in the semifinal round. The two teams remained tied 0-0 after the regulation seven innings. It wasn't until the ninth inning that a team would score.
Tonganoxie led the top of the ninth off with a double. However the next two batters never reached base, but the base runner did advance to third. The Chieftains scored the only run of the game on a high pitch that bounced off the BHS catcher's glove and rolled to the back stop.
The Chieftains' player sprinted home from third, giving Tonganoxie a 1-0 lead.
Baldwin got one runner on base in the bottom of the ninth, but couldn't the game.
Tonganoxie advanced to play the winner of the Bishop Ward Santa Fe Trail game for a state berth.