Weekend Warriors
Tonganoxie Middle School Warrior Guard shows off in first invetational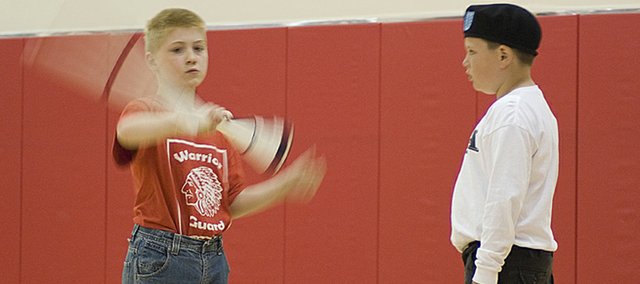 The Tonganoxie Middle School Warrior Guard began to march in perfect formation as Harley Riddle instructed the group to start marching at the inaugural Warrior Invitational at Tonganoxie Middle School.
"About face:forward march," Riddle barked. "Halt, Parade rest."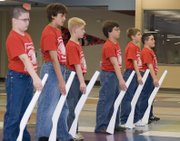 This was the first time the 14 middle-schoolers had ever competed in a public competition. The group, which started in January, is led by TMS special education instructor Becky Blankenship.
She said that as a former ROTC student in high school, she wanted to bring this type of competition and discipline to Tonganoxie students.
"I've been very impressed with what I've seen today and what I've seen these kids do all year," Blankenship said. "I am extremely proud of everyone here."
The Warrior Guard's only competition came from the Young Gentlemen and Ladies of Anthony from Anthony Elementary School in Leavenworth.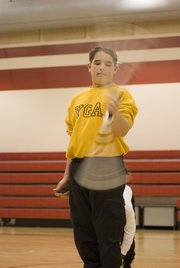 Dressed in their YGLA t-shirts, marching boots and black berets the YGLA youths put on an impressive exhibition showcasing the skills they have learned through several years of training. It wasn't a surprise that the well-disciplined YGLA Panthers swept most of the competition, but Riddle, who is their commander, said he was very impressed with the TMS squad.
Even some of the judges, such as Army Sgt. Joe Peel, who recently came back from Iraq, were impressed with how the Warrior Guard performed.
"These kids do this better than how some of the soldiers do it," he said.
Peel's son J.D. is a member of the Warrior Guard.
Although she will no longer be leading the group next year, Blankenship hopes the group will continue to grow with help from the community.
Currently the Tonganoxie VFW and the American Legion have donated time, equipment and money for the Warrior Guard.